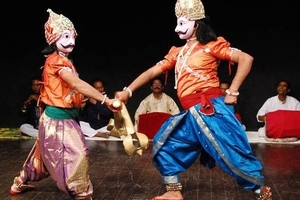 Popular Indian festival Diwali Mela sees the Masked Dancers performing in Hamilton for the first time.
The famous international dance group from Jharkhand state, in East India, will entertain with thrilling performances and martial arts demonstrations.
Diwali is a festival of lights and is a gazetted holiday in India. Followers of Buddhism, Hinduism, Jainism and Sikhism observe various customs related to Diwali.
Celebrations may last for up to five days. Many people decorate their home and workplaces with tiny electric lights or small clay oil lamps. Bowls of water with candles and flowers floating on the surface are also popular decorations.
Hamilton festival organiser Suman Kapoor is very excited.
"Not only is the group very famous, but they are very refined artists," she says. "That is why we want to invite more children and school-goers to the festival. And those who are already performing here can learn from them; they will see that it's not only about the Bollywood dancing, but it's also about the real practiced performances."
Kapoor says it was not an easy task to get them here.
"Every year this famous group would come to New Zealand and perform in Christchurch, Wellington, and Auckland, but last year we convinced them that Hamilton is also a great city to visit."
Diwali Mela runs from October 13 to 28.
It opens at the Waikato University, with a Diwali cultural dance show, and finishes with the Masked Dancers group at the Festival of Lights, in Garden place, on October 28.
All are welcome to attend workshops held at Creative Waikato every day, noon-2pm from October 14 to 24.
Every day will feature a new topic; some examples are: the art of henna painting, Bindi and body art, and Bollywood dancing.
Garden place will host Diwali events from October 25 to 28.