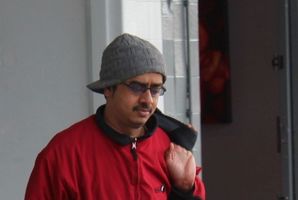 The reason Kinnari Patel sells synthetic cannabis is simple: "Money is the motivation".
"Why would you work 12-15 hours a day [in a dairy] to make $200 if you're lucky?" he said.
Mr Patel has set up shop in Hamilton East where he turns over $5000 a week.
A trained software engineer, he couldn't find work, so he opened a dairy. When he was no longer able to sell synthetic cannabis at his Melville dairy when the Psychoactive Substances Bill came into force last month, he leased a building on Grey St and put in an application for a licence to sell the products.
The new Psychoactive Substances Act allows people who had been trading in synthetic cannabis for at least 28 days before the Act came into force to apply for a licence to sell it. That does not include dairies, convenience and grocery stores, service stations or liquor outlets.
Hamilton News spoke to Mr Patel at his store last week. The shop front features no sign-writing other than a handful of crude A4 pages taped to the window stating opening hours and that the store is strictly R18.
Inside, it's freezing. Dimly-lit, the store houses only a counter and a grey steel cabinet. Mr Patel, in a bulky coat and beanie, is polite and even-mannered. He says he's doing nothing wrong and won't move from the Grey St store unless the council orders him to.
But Hamilton East residents and business owners are furious the store has set up shop there and want it gone.
Hamilton East Community Trust chairperson Lois Livingston said there was "no way Westfield Chartwell, or The Base would allow a store like this to open up, so why should we have to put up with it here?"
"Hamilton East is a very family-oriented area with schools in the vicinity. We don't want shops selling synthetic cannabis here."
Ms Livingston said the trust would support Hamilton City Council to "pass a citywide ban" on the products.
Hamilton East resident for 30 years, Shardell Quinn had spoken to several business owners in "the village", all of whom were concerned at the shop's presence and the security risk they believed it posed to their stores when being open late at night.
Mrs Quinn said there were schools in the area and as such many young people waited for buses near the store. "It shouldn't be in that location. Location is important."
"It looks shady with its blackened glass. The locals call the area 'the village' and we don't need that sort of shop in our village."
But Mr Patel says his patrons don't hang around the store front and he's set his opening hours to minimise any perceived issues with nearby businesses.
"I'm not a drug dealer. It's legal for us to sell it. If it's so bad, the Government should just ban the lot. If I don't sell it, someone else will. But if it's banned, I won't sell it. I won't do anything outside the law."
Mr Patel said if stores like his didn't exist the black market for the products would thrive. However, it seems it already is.
Hamilton News understands there are people in the CBD who dress in a certain way and peddle the drugs. They canvas the area by foot and occasionally by bike.
A customer of Mr Patel's told Hamilton News there was a city suburb that was a hot bed for dairies selling the products illegally.