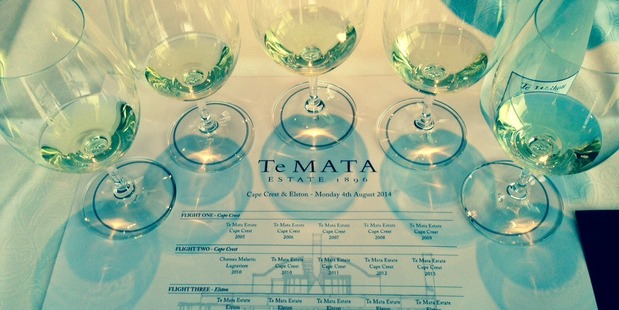 Last week I mentioned a really interesting tasting I'd attended at Te Mata Estate in Hawke's Bay.
The email from Toby Buck read: "We're going to open nine vintages of Cape Crest and Elston including the 2013. Would you like to join us?"
Toby's the son of owner John Buck and now head of sales and marketing.
I tapped out a "Heck, Yes!" and hit "send" faster than a speeding bullet.
These are two of my favourite New Zealand white wines and they have a long, impressive pedigree for their ability to age gracefully (maybe they can give me some tips).
For this "Great White Tasting" Toby was joined by winemaker Phil Brodie and technical director Peter Cowley.
Cape Crest is Te Mata's top sauvignon blanc, and they've been producing it since 1991 from a small 1.4ha vineyard inland from Te Awanga coast near Cape Kidnappers.
It's not your "normal" sauvignon. Since 2003/2004, Te Mata has been blending a decent splash of semillon and the rare-as-hens-teeth sauvignon gris.
The wine is also barrel-fermented and aged in a combination of new and older french oak, and the lees (the paste left at the bottom of the barrels from the dead yeast) are regularly stirred through the wine to give extra layers of creamy texture.
It tastes completely different to the grassy, green capsicum, tomato leafy, passionfruity sauvignon we're used to.
If you've ever tried a dry white wine from Bordeaux, Graves or the Pessac-Leognan, then you'll recognise the style that the Cape Crest emulates.
The 2005 Cape Crest has marzipan and hay aromas, lemongrass notes, beautiful balance and lovely fresh length.
The 2006 boasts passionfruit curd and lemon shortbread characters, while the 2007 had stunningly fresh acidity, gorgeous peach and almond complexity and richness.
The 2008 is funky, flinty and bold, while the 2009 has bright white florals, and lime, pea flower, pepper and passionfruit notes.
The 2010 is very similar, with super-fresh acidity, lemongrass and gunflint and a lovely layer of oak, while the 2011 shows lime curd, currant leaf, citrus pith, a sneaky sniff of fig and smoke and mouthwatering texture.
The 2012 is perfumed with pea hay, fennel and dried herbs and has citrus zest flavours - and definitely expresses the cooler vintage.
Then the newbie: "2013 - we just love this wine," says Phil Brodie. "I just think it's got everything, even at such a young age, we're very happy with it."
Elston has been wowing chardonnay lovers since 1984.
The point of this tasting, says Peter: "Is not to say that we've spent 30 years getting to the stage where we're finally getting it right with these wines, it's about looking at their evolution in the bottle."
Here in New Zealand, the idea of "cellaring" wines has fallen with the increase in daily wine drinking as part of everyday life, as well as the rise of convenience shopping.
But I adore older chardonnay. I love the mealy, caramelised, toasty flavours that develop over time, and that's where Elston never disappoints.
Aiming for purity, Te Mata hand-picks the fruit. "Hand harvesting is very important for both Cape Crest and Elston," says Peter.
"You get very clean fruit because every bunch has been picked over and inspected by a human."
Te Mata uses only the "free-run" juice in these top white wines.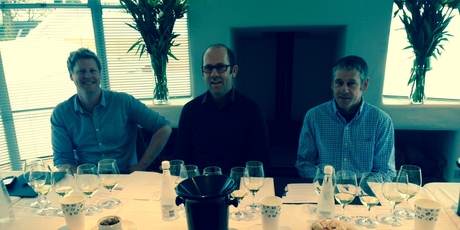 "We do whole bunch pressing with Elston, always have done," he says.
"Bunches go to the press and because the stems are still in there, the juice runs through very quickly."
Peter reckons it's very trendy for winemakers to do a lot of lees work to bring in "doggy", "matchsticky" flavours.
"The minute those things start to bury the fruit I don't see the point. We don't do that."
The 2005 Elston has a beautifully biscuity, spicy, toasty nose and fresh figgy flavours. The 2006 shows grapefruit pith and elegant, truffle-like tastiness.
The 2007 has mouthwatering baked stonefruit and hazelnut notes, while the 2008 is juicy, rich and complex, with a hint of saltiness.
The 2009 shows peach and pineapple sweetness and the 2010 has a more cleansing texture and fresh, lemony concentration.
The 2011 has peppery, toasty complexity, but the 2012 has gorgeous toasted macadamia and truffle on the nose, concentrated lemon, nectarine and fig flavours and a luscious finish.
Though these wines have been around since 1984 and 1991, we looked at only the past nine years.
"We used natural cork before 2005 (they use DIAM corks now), so we're a bit reluctant to go back further because it becomes a bit of a turkey-shoot," says Peter.
"The point is, we've made them every year, the years have been up and down, there've been some great ones and some pretty average ones, but when you've got nice vineyards and you know what you're doing, it all works out."
Sips of the week
Te Mata Cape Crest 2013 $29
I love the fragrance of passionfruit curd, lemon blossom and hints of herbaceousness in this wine. Bursting with ripe citrus fruit, a lovely layer of soft oak, piercing, yet beautifully balanced acidity and a splash of marzipan and wet stone, this wine has a huge future ahead., Gorgeous. www.temata.co.nz
Te Mata Elston Chardonnay 2013 $33
Chardonnay lovers ahoy! This is a stunner. With white-flesh peach, nectarine and grapefruit tones on the nose and palate, it's superb. Boasting a crunchy acid spine, rich fruit concentration and a fresh, exfoliating texture -- this will be a wine to watch over the next four to five years. www.temata.co.nz