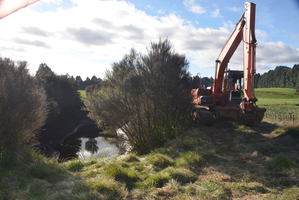 People are beginning to show signs of ill health after the September 27 diesel spill that contaminated Raetihi's water supply.
Dr Patrick O'Connor, the Whanganui medical officer of health, said there had been six notifications of people suffering from illnesses involving diarrhoea and vomiting.
"It's a mixture ... four people reported being unwell before the water supply was turned off, and two have become unwell since.
"From this information it appears there is no current increase in the number of residents becoming ill with diarrhoea and vomiting."
Consuming diesel had been known to cause irritation of the gut and a variety of other symptoms, including headaches, but the Raetihi spill was a "very, very low dilution", Dr O'Connor said.
Earlier reports suggested there had been an outbreak of rotovirus in the Raetihi area before the spill, but MidCentral DHB has since said there were no confirmed cases.
Whanganui DHB's Waimarino Health Centre in Seddon St, Raetihi, has been plumbed with a 25,000-litre water tank to assist with its operations while the town's water supply is off.
For more articles from this region, go to Wanganui Chronicle