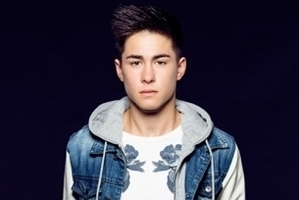 Turangi teenager Jackson Owens loves his new life as a member of up-and-coming American boy band Far Young, based in Orlando, Florida.
But after a whirlwind three months, the 16-year-old says there's still no place like home.
Jackson and his father, Bobby Owens, returned for a brief visit this week - catching up with family and friends in Turangi and fulfilling promotional obligations.
The teenager headed to Orlando with his father in March after being discovered and signed up for the new boy band by Grammy-winning producer Tim Coons, who shot the Back Street Boys to stardom.
The last three months have been full-on for the pair. Most days started at about 9.30am and finished around 10pm. The band performed in Los Angeles, Cincinnati and Hollywood, attracting a growing fan base.
It had been a huge learning curve for him and fellow band members Eben, 17 (a former American Idol contestant), and Christian, 14, Jackson said. "It's just awesome and so overwhelming that I sometimes want to pinch myself."
Mr Owens said taking time off from the family forestry business to accompany Jackson was a big lifestyle change. Although it was difficult being so far away from wife Sharne and his three other children, he said the opportunity to be with his son on the journey of a lifetime had been amazing.
The band had gone from strength to strength and two original songs were due for release shortly. "The boys were literally chucked together to create this and it is amazing to see how they have grown in confidence."
While the trip home had been brief, they had made the most of their limited time in Turangi. "This is where we are from and we have huge support here," said Mr Owens.
In between rehearsing for an upcoming show, Jackson had taken time out, going to the movies and getting in a bit of hunting. He says "home is still home".
He has his sights fixed on the next step. "The ultimate goal is to get to the top and for everyone to know us, not just as a boy band, but saying, 'These boys really can sing and the music means a lot to them'."
For more articles from this region, go to Rotorua Daily Post