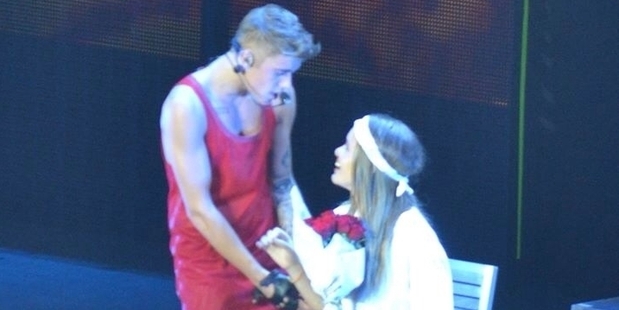 There's One Less Lonely Girl in the world and she's from Ohope.
While once a mere Belieber, Carla Brown is now the ultimate Justin Bieber fan after becoming the teen sensation's latest One Less Lonely Girl at his Auckland gig on Saturday night.
As part of his worldwide Believe Tour, Bieber's entourage hand-pick a girl from the audience to be taken on stage, hugged and gifted flowers while the pop star serenades them with the words of one of his early hits One Less Lonely Girl.
"And this time it was me," said the 15-year-old who remains awestruck days after the concert.
"I still can't believe it, that I was on stage with Justin Bieber and that I got to hug him and that I have 18 red roses to keep forever," Carla said.
And she has her dad to thank.
The tickets she and friend Emma Stewart initially brought were quite a distance from the stage.
So, after convincing her father they needed to be closer, the tickets were sold and new ones for row 15 bought.
"After all, it was Justin Bieber and my first concert," she said with a smile.
In the build-up to the concert, Carla admitted watching YouTube clips of girls fortunate enough to be chosen as the One Less Lonely Girl and thought to herself, "imagine if it was me".
"I used to watch the girls and wonder how they managed to go up on stage without crying. Emma and I had already decided we would be crying if we were ever chosen."
But then, somewhere during the concert, Bieber's crew positioned themselves at the end of the girls' row and looked down the line toward them.
"We thought someone was in trouble but then they left," Carla said. "Only to return and ask me if I wanted to be the One Less Lonely Girl."
Carla said she was incredibly nervous when taken backstage but that was nothing to actually being onstage and in front of the 8000-strong audience.
"Justin Bieber asked me my name and I just froze. I'm sure I was hyperventilating because I couldn't talk so well either."
Carla was twirled, hugged and hugged again. "All I could think was that he smelled so good."
When the song finished the pair ran off the stage holding hands. "Backstage he just thanked me and then left to change his clothes and I went back to my seat."
The next day Carla brought Bieber's latest perfume and had the fortune to run into Bieber's support act Cody Simpson who was signing things at Sylvia Park.
"We loved Justin Bieber when we were in Year 6 and he wasn't really that well known," Carla said of herself and Emma. "Now five years later I'm fallen in love with him all over again."
For more articles from this region, go to Rotorua Daily Post