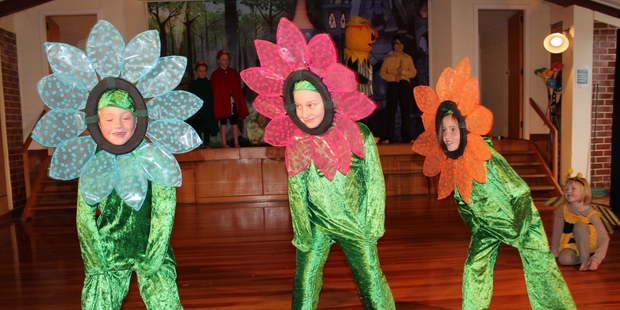 Producer Megan Hanley is disappointed so few children enrolled for her creative arts workshop in Dannevirke last week.
"We were down to 12 but, at one stage, had 26 enrolled, however, 14 had to pull out," she said. "I want to be here and chose Dannevirke as a place to bring the workshops because you have a strong theatre culture. But we can't continue to go where we don't get the numbers."
With the production of HR PuffnStuf the focus for the week, backdrops were brought to town for Friday's finale, but Ms Hanley is pondering whether she'll continue.
And it hasn't been because of a lack of trying on her behalf as Ms Hanley said she had paid for 1500 fridge magnets to be distributed to schools and visited every school in the Tararua.
"I've attended principal association meetings and the hands go up as people are enthusiastic about the programme, but still the children don't turn up," she said.
"To break even, we need 20 children, so this time we're having to cover 50 per cent of the cost. What it means is the profits from the Sydney workshop are paying for the workshop in Dannevirke. After three years, I'm wondering if enough is enough for Dannevirke."
However, Ms Hanley says she realises it can take time to build interest, but with the first workshop in Dannevirke attracting more than 20 children having numbers dwindle is frustrating.
"I'm going to be looking for a sponsor to help out and I've got to acknowledge the support from the Dannevirke Theatre Company. It's been brilliant because they see their future cast members are receiving a great grounding at these workshops."
After 28 years living in Australia, Ms Hanley has brought her workshops here wanting to inspire creativity in children. "Unfortunately funding for my next contract has been cut."
After the final production, Duncan Hall who had taken part in two workshops was inspired to enrol for a third. "You have heaps of fun. I liked the acting and role plays and it's something interesting you can do in the school holidays."
For more articles from this region, go to Hawkes Bay Today