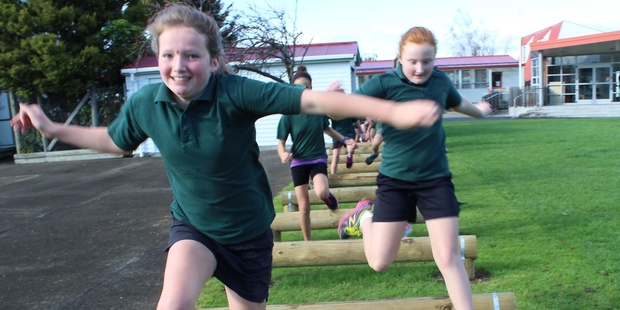 As soon as the gates to Dannevirke's St Joseph's School open in the morning, pupils are making a beeline for the new fitness track.
"Our kids are into kicking balls and putting themselves through their paces. I've no idea what they were doing before we had this new facility," principal Chris Gunn said. "Everyone is fitter and more energised, and there's a pride in our school because of what has been achieved here."
The school's new fitness circuit has been totally pupil-driven and funded by the Kids Crusaders (home and school committee).
"Our pupils identified a need, researched and then designed what would be needed, and put their plan forward," Mr Gunn said.
For the Year 7 and Year 8 pupils, their research involved meeting with Activate Gym owner Erena Peeti-Webber, an expert on fitness and the body.
"We had to work out how stage one of the fitness track would work best for the critical parts of our body," pupil Clare Seatter said.
With all the hard work completed, the track is a winner.
And with a growing school roll of 94, there is plenty of demand for the track and the set of goalposts, with the complex also used for a fitness boot camp on the weekend.
For Clare there is just one word for the fitness track: "Cool."
Tristin Peeti-Webber agreed.
"I'm excited and want to do more fitness stuff now," he said.
Chantelle Monteith and Stephanie Walker also said they had a more positive attitude to fitness now.
"We stand out from other schools and others are taking notice of St Joseph's," pupil Brodie Walters said.
However, providing a complex does not just take ideas and money. It had also taken a lot of hard work from volunteers on working bees, and businesses happy to help out, Mr Gunn said.
"The children decided they wanted rugby goalposts too and that was something right up my alley, so I was with them on that," he said.
"And we were very lucky, Craig Monaghan of RCR Energy designed and built the posts, which the company donated and Rowan Huxford painted.
"For the fitness track, we had building help from Glen Higginson and Bruce Hunt. Prenters concrete and Tumu Timber's Michael Seatter worked with us on the project too."
However, while his pupils are throwing themselves into exercise, for Mr Gunn, who is passionate about fitness, it has been a case of just sitting and watching, after a knee operation left him unable to jump hurdles or throw himself across the parallel bars.
"I'm raring to go," he said.
For more articles from this region, go to Hawkes Bay Today