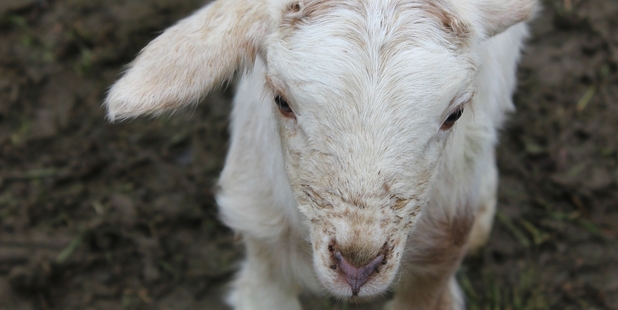 A RARE damara lamb born on a Wimbledon farm recently was a first for farmer Brian Hales.
"This lamb's mother is Egyptian and came to New Zealand as an embryo transplant," Mr Hales said.
"I purchased her from a game park in New Plymouth and there are only a handful of this breed in New Zealand."
In Australia, breeders are crossing damara rams with dorper ewes to develop the meatmaster line of meat, which is being sold to Asians who are partial to the flesh because it has no smell while being cooked.
The short-haired meatmaster is a composite breed of sheep developed in South Africa and, today, its bloodlines can carry any number of breeds, such as the South African meat merino, but must always contain damara breeding.
"They're a breed which is never shorn, they moult instead," Mr Hales said. "This lamb has quite a coarse and hairy coat, very distinctive."
Mr Hales who runs flocks of exotic karakuls, Gotland, Arapawa Island and Pitt Island sheep on his property, said the damara lamb showed its feral characteristics by being up and running within six minutes of its birth.
"Exotic lambs are normally born small, but not this one," he said.
And no, the damara wasn't born out of season, for the exotic breeds, spring was seven or eight months of the year, Mr Hales said.
Visitors to the Hales farm for the annual shearing and spinning day on Sunday, September 28, will get the chance to taste an exotic.
"All the breeds are being cooked according to their specific culture and I've enlisted the help of 12 cooks to come up with recipes," Mr Hales said. "The Gotland will be cooked the traditional Scandinavian way and the Pitt Island is being cooked according to its Spanish origins."
However, in a twist, Mr Hales also asked his cooks to come up with a shipwreck menu - using only what would be available on Pitt Island - which was dished up to him on Herbertville Beach last Sunday.
"It was awesome," he said.
"The day was excellent, and if that's what being shipwrecked is like, I think I could easily slip into the lifestyle.
"At the shearing day, we'll move through all eight exotic breeds, including those from South Africa, Egypt and Mongolia, and we'll present the public with the recipes and give them tastings.
"There will be marquees set up around the yards and we'll also have a butcher here to show people how to cut up the exotic meat to get the best use."
Nowadays the karakuls and dorpers were domesticated and, left to their own devices, wouldn't last six months, he said. "However, the Pitts weren't touched by man for 200 years and their meat is beautiful, but needs to be cooked differently."
For more articles from this region, go to Hawkes Bay Today