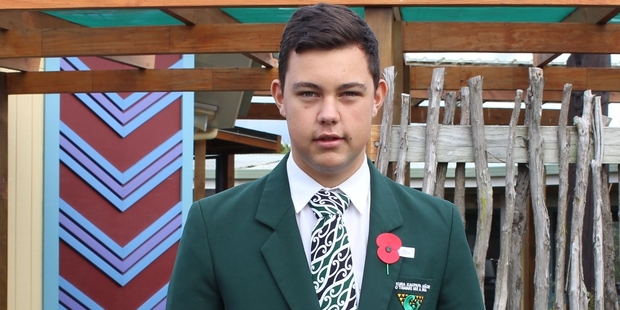 A scholarship to study overseas for two years is a huge coup for a Dannevirke teenager and his school.
Reihana Paewai, 17, the son of Moira and Stephen, has won a scholarship through the United World College (UWC) to study in Singapore for two years and his parents are thrilled.
"Reihana will be studying at a college which is a cross between a secondary school and a university and will learn another language, as well as studying other subjects," Mr Paewai said.
"We're absolutely delighted and excited. Mind you, it might be a bit of a cultural shock for our son."
Reihana is a Year 13 pupil at Dannevirke's Te Kura Kaupapa Maori O Tamaki Nui-A-Rua and his scholarship is a coup for the small school, Mr Paewai said.
"We hadn't heard of this scholarship, but my sister alerted us to it," he said. "One criteria was that the recipient had to be a Maori or Pacific Island boy fluent in their own language."
For Reihana, who is the Kura's leader of the student council, the equivalent of head boy, making a move from his small 80-pupil school to a university with 5000 students, isn't daunting.
"I'm not nervous. I'm just trying to get prepared for the experience," he said. "It is a big deal though and it has all happened so quickly."
Reihana said he's looking forward to the unique experience of being a part of a multi-cultural learning environment.
"I was looking at doing a Bachelor of Arts in political science at Massey University in Palmerston North next year, thinking that would be a big enough jump from small Dannevirke. But now the Singaporian opportunity is a huge leap," he said.
Reihana will leave the kura, which has just 21 pupils in its high school, for the UWC and 5000 students, eager to do well.
"[Labour Party leader] David Cunliffe is a former recipient of a UWC scholarship, he studied in Wales and I've already been contacted by former UWC students. That's cool," Reihana said.
UWC was founded in 1962 with the vision of bringing together young people whose experience was of the political conflict of the cold war era, offering an educational experience based on shared learning, collaboration and understanding so that the students would act as champions of peace.
"Today the scholarships are still aimed at fostering world peace and the (British) Commonwealth became involved when Lord Louis Mountbatten actively began promoting it more than 30 years ago," Mr Paewai said.
And while Reihana's parents were thrilled with their son's success, they had one question, "What about NCEA?"
"We've been told not to worry about that as Reihana will be studying at such a high level in Singapore," Mr Paewai said.
After discussions with his kura principal, Reihana has decided to study three subjects at a high level, English, economics and philosophy and mathematics, sport and Mandarin at a standard level.
"If I can pass economics and philosophy at the high level it will be a boost to help me get into a top university overseas, possibly an ivy league college in the United States. That's a big thing for someone from Dannevirke," Reihana said.
Normally just two scholarships are awarded each year, but this year four young people have received them. As well as Reihana, one teenager is going to New Mexico in the United States, one to Vancouver Island in Canada and the other to Germany.
And Reihana conceded it was a big thing for his school to have a pupil selected for such a prestigious scholarship.
"I couldn't have done this without the help of my teachers, parents and grandparents," he said. "The UWC in Singapore is one of the hardest academically out of all the 14 colleges, so it will be a challenge. That will be the biggest thing for me, I'll be studying at the equivalent of a second or third year university student."
Reihana will continue to lead by example at the kura and to play rugby for the Dannevirke High School 1st XV, before leaving for Singapore in August.
"I know they play rugby in Singapore and I'm looking forward to that," he said. "And I'm sure when I'm there people will be asking me a lot of questions about my culture and with 80 other cultures represented at UWC I'll be trying to experience all the other cultures too. The very best thing is that all the students come together for peace."
News of his scholarship win came when his family was dealing with the death of his aunt Jocelyn Goodwin in a cycle accident in Palmerston North.
"It was a bit of light amongst the hard times," Mr Paewai said.
For more articles from this region, go to Hawkes Bay Today