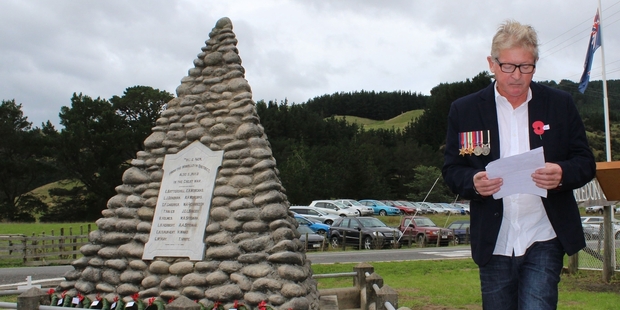 War robbed Doug Hales of a grandfather, Ralph Thomas Hales, who left Wimbledon with no idea of the reality of war.
On Anzac Day Mr Hales was one of more than 200 people who gathered in Wimbledon to talk about the 16 men from the district who served and returned from World War 1.
"Many of these 16 where lost in time but we've dug up their stories," said Brian Hales, organiser of the Anzac Day service. Mr Hales and his researchers also found people connected to the 16, including two daughters and an 85-year-old from Wellington who talked about a boy fostered into his mother's family, Harry Ward.
"The stories are fantastic, quite outstanding, and those of us with inside information are staggered," Mr Hales said.
Last Friday, Mr Hales and others gathered at the stone cenotaph in Wimbledon to remember Ralph and other men from the tiny, remote farming district east of Dannevirke who went to the Great War.
"War had many different effects on those who participated," Doug Hales said. "Some men emerged as great leaders, some men returned as great heroes. My grandfather, Ralph, returned with a bullet lodged between his kidneys. The technology of the time meant it could not be removed.
"Like myself and my father, Ralph attended Wimbledon Primary School. He left New Zealand in 1916 with the New Zealand Machine Gun Corps as private No 22975. He graduated to a corporal while fighting in the trenches in France."
On August 20, 1917, while in the trenches, Ralph was shot in the back. He was admitted to the 14th General Hospital in Wimmereaux and transferred to Walton on Thames, remaining in hospital for almost a year before returning to New Zealand.
"My grandfather completed two years and 299 days' service, he was one of the lucky ones," Mr Hales said. "When we look at the old movie clips of life in the trenches we have some idea of the skill level, the stamina and the toughness of the men like Ralph who survived. I wish he had been able to tell me some of his stories."
Ralph Hales died aged 38, leaving his wife, Moana, a young mother with four young children and a farm to manage.
"My father [Ralph Edwards Thomas, known to everyone as Bill] was 11 when Ralph died, he found it hard to remember his father," Mr Hales said. Bill served in World War II.
"I feel sorry for my grandmother Moana, she carried the burden of war, she was the one who had to watch as later two of her boys went to war. Moana was the one who ensured our family line survived."
The stories told at Wimbledon painted a picture of the men and district they served.
"This has been an amazing snapshot of this community," the Reverend Jo Crosse of Weber said. "Every year, Brian Hales goes about quietly organising this service, but this year he has exceeded himself."
There was little fanfare, no parade, just a quiet, contemplative amble along the road. No band, just a lone bugler, Tina Everitt of Herbertville, and no ranks of soldiers, just medals on the chests of proud family and friends from Wimbeldon, Dannevirke, Herbertville and Hawke's Bay and Wellington, all gathered to share the never-before heard stories of the men who went to the Great War.
The stories were poignant and powerful, giving life to the names on the cenotaph.
Napier's Lew Willoughby spoke of Eric Henry Battershill, whom he described as a gifted and courageous young man. Born in Hastings in 1897, he attended Napier Boys' High School were he was awarded the Vigor Brown Challenge Shield for lifesaving.
"However, his most notable achievement came when he was prosecuted by a heavy-handed official in the telegraph department in Napier for illegally operating a home-built wireless apparatus of his own making.
"The case actually went to court with plenty of publicity. Lawyers from round the district attended the trial which in the words of one reporter 'closely approximated a Gilbert and Sullivan comic opera'.
"The judge showed good sense when he found Eric technically guilty and discharged him.
"He tried to enlist for World War I in New Zealand and was told he was too young and that his conviction was held against him, he left New Zealand on the steamer Maheno and swam ashore at Albany in West Australia and made his way to Sydney where he was working as a motor mechanic until he enlisted in the Australian Forces, which makes him a true Anzac.
"He served as driver and in many other capacities including wireless operator, despatch rider, intelligence officer and later as a pilot."
Herbertville's Kerry Speedy talked about the Donovan brothers. Lionel James Donovan is the second name on the Wimbledon cenotaph, but at least two Donovan brothers went to war. "The eldest, Leonard, was a shepherd on Woodbank, Lionel James was shepherding for George Herbert at Farnham and Ernest was a clerk on the stations."
"I don't know if Lionel's diary still exists, but this is what his brother Leonard, [the Woodbank shepherd] wrote at Anzac Cove, Gallipoli Peninsula in Turkey, on May 8, 1915."
"When Major Saunders gave orders for all New Zealanders to advance, all our men were completely done, having already run about a mile and we carried 200 rounds of ammunition, a rifle and three days' ration.
"We no sooner left the Essex Regiment trench when the Turks machine gun shrapnel and rifle fire played on us. Our men were falling dead or wounded every few yards they advanced. I was knocked over by a piece of shrapnel shell, which broke the butt off my rifle. At the same time another piece went through the spade I was carrying to entrench myself.
"When I was knocked over, I used the face of the spade as a shield for my face and head, which turned out to be just the thing because the maxim gun played on me and quite a number of bullets hit the spade and ricocheted off.
"While I was on the ground, four of our men were shot dead close to me.
"I called out to them but got no response. I made a charge on my own to get to our men ... through what was certainly hell on earth. I am certain I was born under a lucky star in as much as I had bullets whizzing all around me, about 10 maxim guns, shrapnel, and rifle fire."
Leonard Donovan's star shone for another 30 years. He died in Napier in 1945, he was 56.
Raymond and Paul Matthews travelled from Wellington to talk about Henry (Harry) Ward, who was fostered by Thomas and Adah Taylor, one-time licencees of the Wimbledon Hotel. Within a month of the start of the war, Harry enlisted at Palmerston North and was posted to Trentham for training. He emerged as a gunner in the New Zealand Field Artillery and was posted to Egypt.
"The gunners were mainly equipped with the quick-firing 18 pounder guns. All up, the guns weighed 2.5 tonnes [2840kg], were normally crewed by ten gunners and hauled by six light draught horses. In the terrible muds of Flanders it was the gunners who were left to manhandle and move the guns," Mr Matthews said.
Following further training in Egypt, Harry was posted to Gallipoli in May 1915; He was wounded in the right foot and transferred back to Egypt. In November 1915 he was invalided to New Zealand to recuperate. By July 1916 he was back in England ready to re-join his battery in France. Until March 1919, apart from occasional leave in England, he remained on the continent with his unit.
On May 5, 1919, after 224 weeks of service abroad, Harry was discharged.
Of the 16 men who were the focus of the Wimbledon commemorations, 12 were connected and Dannevirke's Gertie Phillips spoke of her father, Ernest Herbert (Peter) who was one of the 103,000 New Zealanders who enlisted.
"After training as a rifleman, he served in Egypt and Western Europe," Mrs Phillips said. "However, this story wouldn't be complete without mentioning the fact that our old soldier's war was not quite over and during World WarII they again rallied to become a home defence force, the home guard. These old soldiers made nightly manoeuvres on to local farms and town areas and those at home felt more comfortable knowing they would protect us if needed.
"My father was a faithful RSA member, but he never spoke to us about the horrors of the trench warfare, but together with old mates would chat about the good times."
Mrs Phillips said she was proud, that as the last surviving member of her father's family, she has been able to share the story of his life as a soldier, farmer and a dear friend.
For more articles from this region, go to Hawkes Bay Today