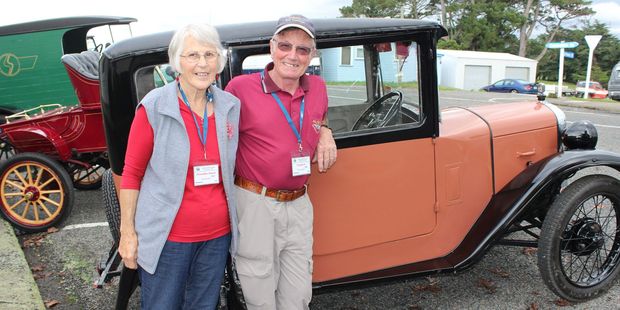 Distance, a lack of doors and inclement weather are no barriers to vintage-car enthusiasts trundling the length of New Zealand in vehicles more than 100 years old.
Ninety-six vehicles, their drivers and passengers descended on Norsewood on Saturday for lunch and entertainment as part of an inaugural Easter rally organised by the Central Hawke's Bay Vintage Car Club.
"We've entries from Gore and Kaiapoi in the South Island to Wellsford in the North Island and they all arrived safety," club captain Bruce Poole said. "Enthusiasts love coming here because this weekend most of their touring will be off the main highways - we're always thinking of the modern motorist and don't want to hold them up."
During the weekend Mr Poole was presented with his 50-year badge and told the Dannevirke News he was brought up in an old Model A Ford. n 1991 he bought his 1930 Chrysler as a wreck from Pongaroa's Pearl Gandy.
"Pearl had been given the car as a 21st birthday present by her father and we had to haul it out from under an old macrocarpa hedge," Mr Poole said. "I've seen so much of the back-country roads from this old car, it's wonderful."
Rongotea's Laurie Cocker has also seen a fair bit of New Zealand from his 1906 one-cylinder, 10-horsepower Cadillac truck, which still runs on wooden wheel rims. With no gears to change, he said the drive was "sort of smooth".
"I've driven from Rongotea (in the Manawatu) to Bluff four times and made a trip to Cape Reinga too," he said. "I've done more than 56,000 miles and I'm forever tinkering and fixing."
The truck, which runs on anything from white spirits to Avgas, can reach up to 35 miles an hour (56km/h). "But it depends on which way the wind is blowing and the road is leaning," Mr Cocker said.
Not only are enthusiasts willing to experience the elements in vehicles without doors, a roof or windscreen, tinkering can be hazardous too.
Whanganui's Stephen Boss recalls things went wrong when he was helping a friend restore a vintage vehicle. "It backfired and singed my eyebrows," he said.
Mr Boss and his wife Claudia-Ann were in their 1930 Austin 7 which has been restored twice.
"My motor mower has more horsepower than this, but it's fun to drive," he said.
"I first restored the car when I was an apprentice and then I purchased a roadster and the Austin went into the back corner of the shed. It came out again to be restored a second time."
With no locks and no key, the Austin 7 (a baby Austin) is from a different age of motoring and the back-country roads around the district were ideal for cruising at the weekend.
For more articles from this region, go to Hawkes Bay Today