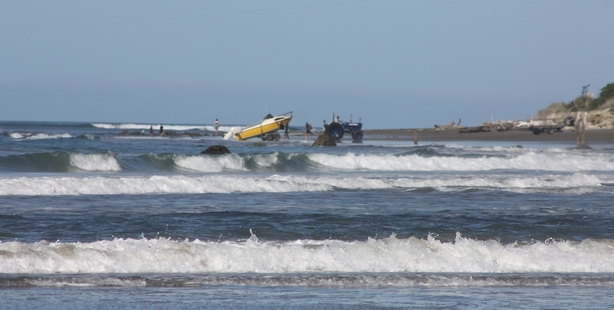 Masterton's Chris Horrocks has a passion for Akitio Beach and is keen for it to remain a safe holiday spot.
"I've spent every Christmas at the beach since 1969 and having the Tararua District Council add the word 'temporary' to speed restriction signs has been a brilliant move," he said. "But we'd like the council to go further and along with the 50km/h restriction outside the stockyards before the bridge, there should be a slowdown sign.
"With so many people at the beach over the Christmas period, having motorists forewarned before they come to the bridge and the foreshore would be great."
Tararua District councillor Bill Keltie suggested a speed bump might be appropriate, but Mr Horrocks said it had been tried before.
"We did put in some temporary speed bumps outside the school and further down, but stock trucks suffered damage to their suspensions and differentials when they hit them," he said.
Mr Horrocks said there were also concerns regarding freedom campers despite the "no camping allowed" signs on the beach.
"Senior Constable Dave Kirk isn't there to police those freedom campers, but to ensure the alcohol bans are obeyed," he said. "Isn't it about time we followed the Coromandel's lead where the number plate is taken and the owner of the vehicle is sent a $150 ticket? These people need to get the message, if you camp on our beach you'll pay for it."
Council's chief executive Blair King said in the past, the council had more staff at the beach and acknowledged policing such things was a problem.
"It's a challenge and now we're saying to our staff out there, 'you're on holiday, have a holiday'," he said.
"However [council staffer] Dave Watson still takes his trailer out and brings in the rubbish, even though he's on holiday."
Mr King acknowledged the council had an inefficient bylaw to deal with the problem.
"But if you want such a bylaw, now is the time, while we're working on our annual plan," he told Mr Horrocks.
"We could recommend to council that we appoint an honorary ranger too."
Mr Horrocks said he also had issues regarding notification of water restrictions at the beach.
"A lot of people are washing boats and have no idea we have water restrictions out there over summer," he said. "Our Akitio water supply is gold."
Making sure everyone was aware of the restrictions was something the council was looking at, Mr King said.
"We're looking at what would be the best way for council to communicate with people at the beach," he said.
"However, it would be prudent for people to put in bigger water tanks, because 1800-litre tanks aren't big enough."
For more articles from this region, go to Hawkes Bay Today