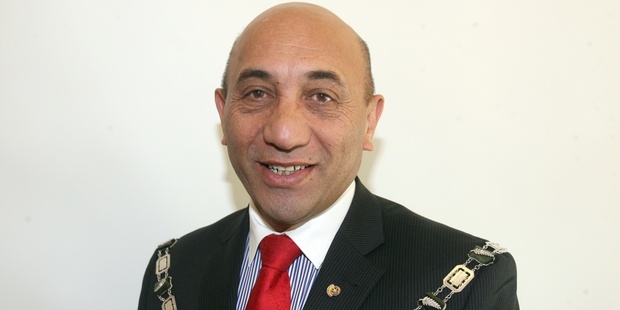 New Zealand had become a divided nation, a Dannevirke dairy farmer said at a submissions hearing in a packed Tararua District Council chambers.
Phillip Hartridge was presenting his submission on the council's proposal to establish a joint reserve management committee with Rangitane o Tamaki Nui-a-Rua, for four reserves as part of a Treaty of Waitangi settlement.
Mr Hartridge told councillors on Wednesday, they had no mandate from the community to enter into an agreement with Rangitane.
"This council has a duty of care for assets and amenities and any country which chooses this path has a very sad end," he said.
The Crown have asked the council to negotiate join management of four reserves in Tararua.
He urged the council to remain with the status quo and unify the community, rather than opting for joint management for the Dannevirke Domain, the Makirikiri Recreation Reserve, the Makirikiri Scenic Reserve and the Hamua Reserve to Rangitane.
"This is a very contentious issue and this council knows it's wrong to make a decision based on racial grounds. It distresses me to hear speakers talk about resentment, aggression and grievance.
"New Zealand has become a divided nation because of agreements such as this," he said.
The submissions hearings got off to a slow start when a large number of people who had indicated they wished to speak failed to show.
Te Amokura Gaffey, born and bred in Pahiatua, said she was a descendant of Ngati Kahungunu and Rangitane.
"I don't understand how anyone from here can say they come from only one iwi. I am related to every Maori in this room.
"Maori and Pakeha should be working together."
When asked by Councillor Jim Crispin if she would be happy if the council came to an arrangement with both iwi, Ms Gaffey said "yes".
"This shouldn't be about separating people," she said.
Hayden Hape, chairman of the Ngati Kahungunu ki Tamaki Nui-a-Rua Trust, said he wanted both iwi to share and he wanted to be part of bringing Rangitane and Ngati Kahungunu people back together.
"In the past 30 years, brothers have gone against brothers and sisters against sisters," he said.
"What's best for us is to share, that's the way of the future. We want this council to build relationships with both iwi.
"This has been going on for too long and I'm sick of the small group of people keeping our families separated.
"It's a form of bullying and intimidation. We need to share and, as much as some Ngati Kahungunu despise this, that's the way forward."
Richard Maniapoto told councillors the land had been confiscated in the first place.
"It's an insult that we should be negotiating with someone who doesn't represent us," he said. "The council is negotiating with an entity which we don't recognise."
Ron Mark and Ian Perry, the lead negotiator and chairman of Ngati Kahungunu ki Wairarapa Tamaki Nui a Rua Trust, said their presence as a team at the submissions reflected the significance of negotiations.
"If this [proposal] goes ahead, it will be an affront to Ngati Kahungunu and severely impact on our ability to negotiate with the Crown," Mr Perry said. "We didn't come here to push anyone around, but your decision could create a situation for our mokopuna in the future. We're Rangitane and Ngati Kahungunu and we're willing to share."
Mr Mark said his people had taken offence at the proposal.
"We were very surprised by the release of the statement of proposal to vest these properties exclusively in Rangitane, without any reference to us and our interests," he said.
"There have been tears and anger, but we see sharing as the right thing going forward in 2014."
Lorraine Stephenson, who has been part of Rangitane's 24-year negotiations with the Crown, said Rangitane would accept the decision councillors made.
The Tararua District Council will make a decision on the proposal at its next meeting, on Wednesday, April 30.
For more articles from this region, go to Hawkes Bay Today