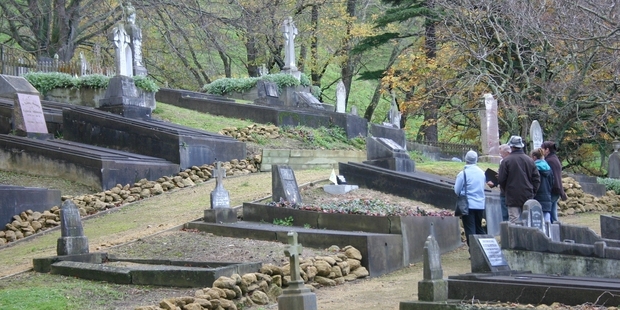 More than 65 headstones tumbled at Woodville's Old Gorge Cemetery during last month's 6.2 Eketahuna earthquake but repairs are already under way.
There are more than 1600 people buried in the historic cemetery but not all have headstones, Woodville's Ray Allot, a member of the Friends of the Cemetery group said.
"Repair work is progressing at a good rate," Mr Allot said.
"Many of the 65 headstones dislodged and toppled have been restored by the hard work of the Friends of the Cemetery with the help of workers from the Corrections Department."
However, Mr Allot said while repairs have been able to be undertaken on the low-level headstones, about 20 are beyond his group's capacity.
Tararua District Council has no insurance to cover such cemeteries but Colin Veale, community assets manager, had supplied materials to help with repairs, he said.
Mr Veale said the cemetery was the worst hit by last month's earthquake, but he was surprised by the amount of damage at the Dannevirke RSA cemetery too.
"A lot of headstones moved there," he said. "Surprisingly, none of the World War I headstones in Dannevirke suffered damage, it was the later, low-level graves which were affected."
While the Tararua District Council had received calls from anxious families about earthquake-damaged headstones, chief executive Blair King said it didn't have funding for repairs.
"The damage is traumatic for families, but council only sells the plot, which then becomes the responsibility of the family." However, the damaged graves in Dannevirke and a few at the Eketahuna RSA cemetery will be covered by Veteran Affairs, Mr Veale said.
The damage at Dannevirke's RSA cemetery has come as a shock to president John Hart.
"I'm really surprised at the extent of the damage. I didn't expect this," he said.
RSA stalwart, Ernie Walker, said the damage was an "eye-opener".
Woodville's historic cemetery features graves of the town's earliest pioneers, with many of the graves marked by impressive marble monuments.
"Restoration of the larger and heavier monuments could have been very expensive for us, but the work is to be undertaken by Palmerston North's William Jones Ltd. Barry, Dane and Cole Hutton have offered their services to repair many of the very old monuments that have fallen and will undertake this work in the near future at minimal cost," Mr Allot said. "They're not charging for their time, just the heavy lifting equipment."
Anyone who wishes to contribute to the ongoing restoration work at Woodville's Old Gorge Cemetery should contact Ray Allot on 06 376-4472, or Ian Bailey on 06 376-5089.
For more articles from this region, go to Hawkes Bay Today