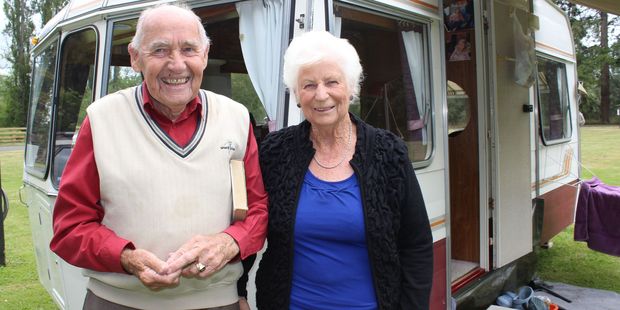 Ngaire Cooper of Napier has been caravanning since she was 6 and is now a fan of the Dannevirke Holiday Park.
"I love the atmosphere," she said. "This is a beautiful camp now it's been refurbished. We'd been two or three times before but didn't linger because it was a bit grotty, but now it's so different. We were on our way back home to Napier and having read about the upgrade in Hawke's Bay Today figured we'd make a stopover."
Husband Ray caught the camping bug from his wife and has been camping for 60 years. He was delighted with the park amenities.
"The kitchen is wonderful and they even supply tea, coffee and sugar. You don't see things like that anywhere else," he said.
"We just tootle around in our caravan and, in the last couple of days, have stopped in at camping grounds in Pahiatua and Waipukurau."
After months of work, the Dannevirke Holiday Park had its formal opening last Sunday. Upgrades have been made to the cabins and toilets, the kitchen revamped and the grounds are having a makeover.
"Residents and guests can now take advantage of an improved facility we all can be proud of," Kathy Dever-Tod, the Tararua District Council's asset group manager, said.
"We can now offer a facility which meets the expectations of travellers and motor-caravan visitors to our district."
And the park offered more than Sue and Martin Smith from Woodbridge in Suffolk, the UK, expected.
The Smiths have been touring New Zealand for five weeks and told the Dannevirke News they were surprised to discover such a well-equipped facility.
"The kitchens are as good as we have at home," Mrs Smith said.
"Back home, we wouldn't have cookers, toasters and kettles in our camping grounds. The kitchen is actually better than ours at home."
Tararua District Mayor Roly Ellis said the holiday park was the perfect base for tourists.
"They can explore everything the Tararua has to offer and with Dannevirke now certified as a motorhome friendly town the renovation will entice additional visitors to utilise this great facility," he said.
For more articles from this region, go to Hawkes Bay Today