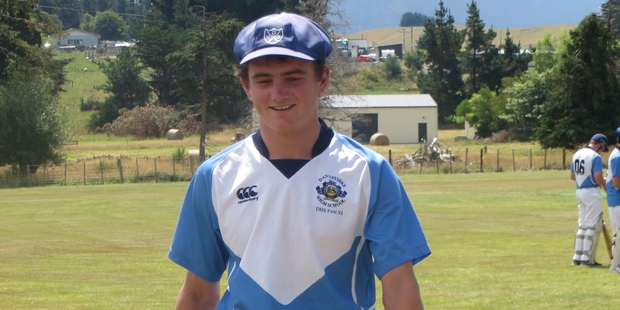 When Dannevirke's Josh Thomson walked to the crease for his high school cricket team for the last time he was creating history.
The Dannevirke High School 1st XI player was taking part in his 100th game for the school, a rare and unique milestone, club official Gordon Kuggeleijin said.
"This is a feat which requires commitment, dedication and the opportunity," he said.
"It all came together for Josh on Saturday, January 25. The school team had a close 15- run win over the Palmerston North CC team in the Manawatu Cricket Association's P 3 competition. Josh scored a valuable 95, to help his team to 265 runs, in his last appearance."
Thomson is unaware of anyone else reaching the 100-game milestone for the high school, but forget records, for him cricket is about the friendships he's made.
"I'm lucky to be playing with some of my best mates," he said.
"I've always loved cricket and when it's you and 10 of your best mates out there . . . "
A wicketkeeper/batsman, Thomson played his first game for the high school in January 2009. He was 13-years-old and it was a week before school started.
Thomson was at the game to watch his brothers play and with the team one regular player down he batted at number 10, scoring 11 runs.
"Later that season he became a regular team member and has only missed playing because of a broken toe and when he went away on a school camp," Mr Kuggeleijin said.
Thomson was following his two older brothers into the sport and the family influence goes back to his aunts and uncles too, he said.
"Cricket is what we know," he said.
"I've played cricket from the time I could walk."
A highlight for Thomson was his team's win in the 2013 Manawatu P3 competition.
"To be the captain and winning a very tight final was a pretty special moment," he said. But it's coach Bruce Hooper-Smith who Thomson credits with sharpening his cricket skills.
"He's had a huge influence and if it wasn't for him I wouldn't have come close to playing 100 games," he said.
"I listened to Bruce, respected him and enjoyed it.
"He was a wicketkeeper/batsman too so his advice was invaluable.
"Bruce has coached me all through my time at the high school and he's been massive."
Hooper-Smith said mastering cricket is good preparation for your future in the game of life and Kuggeleijin said this is especially so for Thomson and team mate Chad Wallace.
"Playing for a relatively small school means the senior cricketers must lead and perform as new members enter the team at the start of term one each summer," he said.
"That's the way it is with our school cricket and it's a challenge.
"Josh has been a key figure in inspiring and leading the team and his departure will be felt. In the spirit of true team players the departing Year 13 cricketers must mentor their replacements to provide a solid team for the remainder of this season.
"Part of our cricket culture at the high school is for a player to earn their blue baggy cap by scoring 50 runs, or taking a five-wicket bag.
"The blue baggy cap is earned the hard way and both Josh and Chad have earned theirs."
Thomson was also the captain of the high school's 1st XV last season, but has managed to keep a sport/academic balance and this year is off to Victoria University in Wellington to undertake and law and commerce degree.
"That balance is easy when you enjoy your sport," he said.
"But to be a top student I've had to work hard off the field."
With his ultimate goal to be a lawyer, Thomson said he doesn't know what's ahead for him in cricket.
"I would love to play to the highest level and if I get noticed by the right person, then that'll be great," he said.
In the meantime, while working at a summer job with the Tararua District Council, Thomson is now playing cricket for the United club in Palmerston North.
"Hopefully I'll be playing in the premier grade," he said.
"The future is exciting and I'm looking forward to the challenges.
"I knew I'd have to move on from the high school eventually."
For more articles from this region, go to Hawkes Bay Today