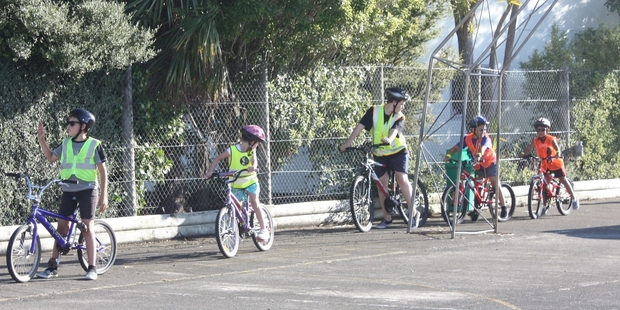 Woodville School pupil Vincent Robinson and Mangamaire School pupil Lauren Mahoney will be in Palmerston North tomorrow, battling to bring home the title of Central District's Young Cyclist of the Year.
Fourteen students from around the region will don their helmets and hit the roads for a 3km road ride that will take students through 15 intersections including giveways, traffic lights, roundabouts and uncontrolled intersections.
Police officers will be stationed at every intersection to mark competitors on their ability to check for traffic and follow road rules as well as bike with control and confidence.
Now in its 14th year, the competition involves a mix of theory, practical skills and road testing led by police youth education officers with support from Horizons Regional Council's road safety team.
Senior Constable Allan Wright says competing riders, aged between 10 and 13, have already proven themselves at a local level, with the best boy and girl chosen to compete from Wanganui, Palmerston North, Tararua, Manawatu, Horowhenua, Rangitikei and Ruapehu.
The regional final is the culmination of a year's worth of work by youth education officers in the area of road safety.
Horizons' road safety co-ordinators will be on-hand to assist on the day, with prizes awarded for first, second and third places.
"Bikes and gear will be checked on arrival to ensure safety. We'll also be running competitors through a skills test and a helmet fitting test.
"About 30 police staff from around the Central District are involved in the event and we have also had some fantastic support from the community and the NZTA," Senior Constable Wright says.
Horizons road safety co-ordinator Glenda Leitao says cycling is really gaining momentum across the region.
"We have many budding cyclists in our region and this competition is a great way to celebrate that while enhancing students' skills and promoting cycle safety," she says.
"All students are provided with a map of the road course upon selection and at this stage any one of the 14 could take the title. They're all very competent young cyclists and it's always a fun day out."
For more articles from this region, go to Hawkes Bay Today