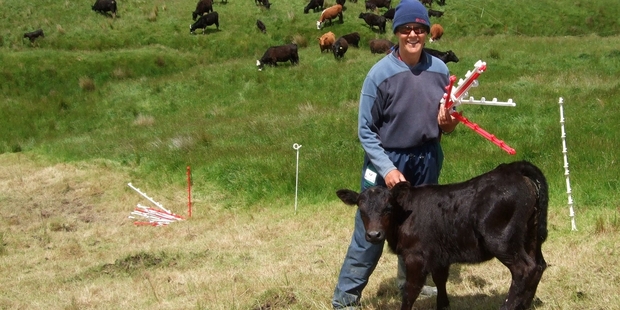 Dannevirke's Anita Lamb has combined her love of the land, animals and storytelling into a new venture - children's books.
Lamb lives at Triple Springs Farm, near the Waihi Falls east of Dannevirke, with husband Dennis, and has taken her love of all things country to the pages of her first children's book Ebony and the Man in the Big Blue Overalls. It was inspired by Dennis' rescue of a black calf.
"We farm side-by-side and I often recall the extraordinary, entertaining and humorous things which have happened out on the farm, so Dennis encouraged me to write them down," she said.
Lamb hopes her stories - eight are planned in this series - will bridge the rural and urban divide.
"When I married and came to live here, a whole new world opened up for me and I want to share that with readers," she said.
"The stories are written through the animals' voices and as well as being entertaining, I hope they're educational and give town kids a real understanding of life in the country."
The stories cover much of what Lamb calls "typical country stuff", with situations familiar to all farming families.
While the series is written for children, Lamb hopes anyone who loves animals will find them an enjoyable read.
Like all self-published authors, the process has been expensive.
"Writing the stories was the easy part," she said.
"Self-published through a company in the Philippines, with the illustrations done in the United States from our guidance, its cost a lot of time and money.
"After a day on the farm, I've then had to spend the night on the phone dealing with all the issues.
"I guess I'm a mix of nerves and excitment and I just hope people love the stories."
The books are for sale online and will be available in Dannevirke PaperPlus within the next week or so. Already 3000 copies have been sent to the United States and the book will feature at the world's largest children's book fair in Bologna, Italy, in March next year.
"I think they'll appeal because all the stories are true and nature often exceeds our imagination," Lamb said.
For more articles from this region, go to Hawkes Bay Today