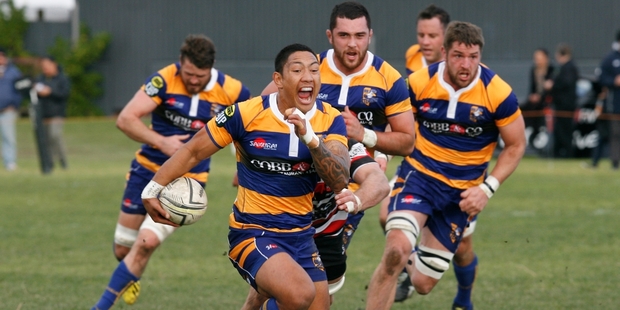 The return of Nathan Harris and Kane Hames from training with the All Blacks has given the Bay of Plenty Steamers a major boost ahead of tomorrow's first home game in this year's ITM Cup.
The round-two clash with premiership side Tasman Makos promises to be a high-scoring clash between two teams that favour playing open, running rugby.
But the hard work has to be done up front first, which is why the return of Hames and Harris is so important to the front row stocks.
Head coach Kevin Schuler is pleased to have them both back in the fold.
"Kane was involved with the team last week and then got the All Blacks call-up, so exciting for him, and he is looking forward to having his first game in the colours this year," said Schuler.
"We have been talking to (Harris) during the week about what we have been up to. We don't get him until just before game time but he is pretty excited as well. He will turn up and be ready to go."
Schuler has wasted no time in ensuring all his players have game time. Joe Tupe will start at No8, former Manawatu flanker Hamish Gosling at openside, and Jesse Acton at blindside flanker.
"We have a group of players and we have faith in all of them. It is important for a young team like this that everyone gets a taste early. They all want to push for starting spots and put their hands up," said Schuler.
The Te Puke Sports pairing of halfback Jono Kitto and first five Dan Hollinshead will start, with a call-up for Whakarewarewa first five Te Rangi Fraser to cover Hollinshead. Paul Morris may be out for a few weeks with a back injury so the former East Coast first five will take his place in the reserves.
Schuler wants to see more self-confidence than was evident in last Friday night's 34-23 loss to Southland in Invercargill.
"The first thing is we were probably just a little bit hesitant and there were parts of our game we did not get up to full throttle, which happens with a young team coming together. The fact we played right to the end, put them under pressure and scored a try late in the game, was really, really important for the psyche of the group. There were some good touches in terms of the systems we want to play.
"Against Tasman, it is about having more impact and making sure every time we run at them we ask serious questions of their defence. They are a sneaky side. They run a lot of guys from out of nowhere, inside balls and offloads, so defensively we need to take that physical dominance that we had in the collisions against Southland."