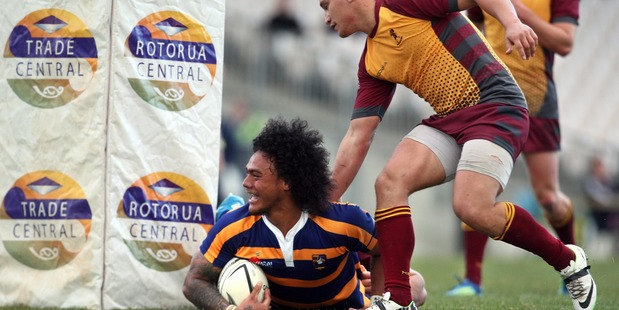 The Bay of Plenty Steamers have impressed during their opening pre-season match defeating Hawke's Bay 35-0 in Rotorua.
The Steamers were under the pump for the opening 30 minutes yesterday before completely taking over at Rotorua International Stadium.
Despite not having any of their Super 15 players to rely on, the Steamers defended well and kept Hawke's Bay scoreless.
Bay of Plenty scored one try in the first half then went on a rampage in the second, scoring four unanswered tries.
No8 Joe Tupe and fullback Tino Nemani were standouts.
Good start to season
Steamers coach Kevin Schuler said it was a good start to the pre-season.
"It has been a big week, we had the camp up at Whakatane and did a lot of work," he said.
"So we knew they were going to be tired during the game but to see them play the full 80 and not let [Hawke's Bay] in, and the physicality we brought, they are good things to tick off."
The Steamers started an extremely big side yesterday in the backs and the pack.
"We won that collision battle and I think that is something the guys have been working hard at - that relentless mindset," Schuler said.
"So to be able to do that on defence and attack is pretty cool."
The Steamers' second and final pre-season match will be held in Whakatane against Counties Manukau next Thursday.
The Steamers' ITM Cup season will kick off on Friday, August 15, against Southland.
Ordinary start
Yesterday's game started in ordinary fashion.
In one of the most forgettable first 20 minutes of rugby ever, the Steamers spent the entire first quarter in their own half.
Only some strong goal-line defence and a couple of knock-ons, including one howler, kept Hawke's Bay scoreless after 20 minutes.
But as the match progressed, it was evident the plan to start a sizeable backline was working for the Steamers in defence, with the likes of Doug Edwards and Siaosi Iongi helping out.
Against run of play
Then, completely against the run of play, the Steamers scored the first points of the game on 30 minutes.
Bay of Plenty charged up the pitch and captain Joe Royal scored a typical forward's try, barging over from close range.
The score remained 7-0 at halftime after Paul Morris converted. The Steamers completely took over after the break.
They scored the first try of the second half when impressive No8 Tupe snatched an intercept on halfway and raced away to score.
Steamers players Iongi, Leroy van Dam and Nemani also scored to complete the route.
Hawke's Bay almost snatched a late try but the Steamers defended well to deny them.
Bay of Plenty Steamers 35 (Joe Royal, Joe Tupe, Siaosi Iongi, Leroy van Dam, Tino Nemani tries; Paul Morris 2 con, Dan Hollinshead 3 con) defeated Hawke's Bay 0.