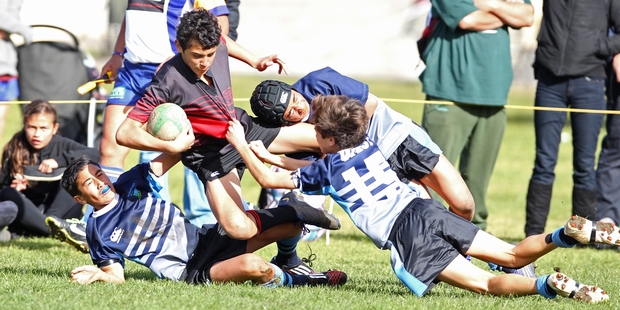 One of the highlights of the Bay of Plenty sporting calendar kicks off at Rotorua' International Stadium today.
The Tai Mitchell tournament began in 1938, and is rightly regarded one of the most important events in junior rugby.
Defending champions Tauranga West are up against nine other primary and middle school teams in Rotorua Maroon, Apanui, Te Puke, Whakatane, Rotorua Gold, Tauranga East, Opotiki, Rangitaiki and Galatea.
Tauranga West coach Aidan Kuka says his team has got better every game they have played.
"We have played five pre-season games now and have only dropped the one against Rotorua Gold, but we have improved every game since then," said Kuka.
"Our expectations are high. We are the current champions and the expectation is to take it out again.
"Most of our boys are out of Tauranga Intermediate but we also have quite a large contingent from Aquinas College this year. We also have players from Katikati College and also Te Puna School, so it is a good spread. We go from Katikati Primary right through to Bethlehem Primary School, then inland to Gate Pa School, Tauranga Intermediate and wrapping around Aquinas College and back out through the rural areas through Te Puna School, Omokoroa Point, Omokoroa No 1, Pahoia and Matahui Schools."
Kuka says both Rotorua teams are going to be really strong.
"They have been nipping away at the heels of the likes of [Tauranga] East and West in the last couple of tournaments but Tauranga East are going to be strong again.
"I think teams like Whakatane and Opotiki can even be dark horses this year. It is quite an even playing platform."
The original Tai Mitchell Shield was presented by Henry Taiporutu Mitchell in 1938, for competition among the primary school teams representing the Bay of Plenty rugby sub-unions. Mitchell was a renowned Rotorua sports administrator and a supporter of all codes.
The Tai Mitchell tournament runs through until finals day on Wednesday.
It doubles as a trial for the Bay of Plenty Roller Mills team, which will represent the province at the northern regional tournament, to be hosted by Bay of Plenty Rugby, against sides from Northland, Auckland, Thames Valley, King Country, Waikato and North Harbour from October 1-4.