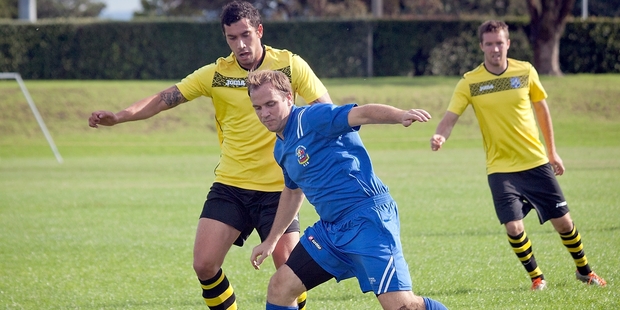 Tauranga City supporters were taken on a bizarre journey at Links Ave against Papakura City before they all went home smiling after scoring a 4-3 win yesterday.
The first half was all about the South Aucklanders as they harried the home team off the ball and aided by a stiffening diagonal wind, put three unanswered goals away to lead 3-0 at the break.
But Papakura never looked like scoring again as Tauranga's trademark free flowing football - plus judicial use of the long ball Sam Alladyce would have been proud of - resulted in a rousing second 45 minutes that produced a hat-trick to Jack McNab and one to Andy Cooper to see the boys in blue home 4-3.
The win means Tauranga City replaces Papakura in the top three promotion spots and they will be confident of getting a result at Forrest Hill Milford next Saturday.
Papakura came into the second of the Easter double-headers with the best attacking record in the Northern League Div 2 and the top goal scorer in Harry Hillary-Jenkins. He was the star attacking turn in the first half, scoring one himself and being heavily involved in the others.
But it could have been far worse but for an inspired performance in the centre of the Tauranga City defence by captain Sam O'Regan, who must have impressed WaiBOP United coach Peter Smith who was watching.
Tauranga City dominated the second half from the opening whistle as the visitors sat back content to protect their lead.
Some slick work down the flank by Jerahl Hughes set up the first goal well taken by Andy Cooper before the hard- working McNab took over. His first was from the penalty spot after a blatant hand ball, his second just a minute later when he managed to squeeze the ball home from a near impossible angle, and his hat-trick and the match winner came with 18 minutes left when he beat the offside trap and finished clinically.
O'Regan admitted they underestimated Papakura and nearly paid the price.
"The first half we started slowly and Saturday [game] may have had something to do with it. Although we won 5-0 it took a lot out of us to get the result.
"We stuck at it really well and I know Macca [McNab] is going to get the headlines but we all deserve it because we worked so hard in that second half.
"We are still learning. We still believe we are going to win this league and there are plenty more teams like Papakura who will come into our faces, but we have to stay loyal to the way we play and take our chances."
Tauranga City 4 (Andy Cooper 48, Jack McNab 55, 56, 74 ) Papakura 3 (George Winship 6, Gareth Jenkins 35, Harry Hillary-Jenkins 39).