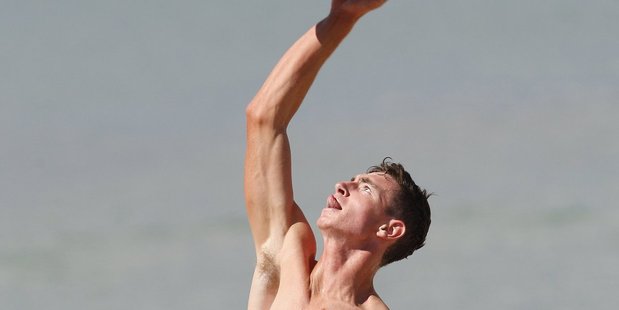 Nate Moore can scarcely believe he will compete at the prestigious Nanjing Youth Olympics in China in August.
The Mount Maunganui College beach volleyballer arrived home this week from a whirlwind trip to Thailand where he and Kahurangi Robinson (Western Heights High School) qualified as one of six Asian teams to join 30 others for the first showing of beach volleyball at the Youth Olympics.
Moore, 17, said qualifying out of 15 teams in action at Khanom was the most difficult physical challenge he had endured.
"It was real hot and humid over there," Moore said. "The first day we were training in 36-37 degrees which was an absolute shock to the body.
"It was an absolute nightmare to start out with but by about the fourth game the body was getting used to it and we learned how to cope with it."
Moore and Robinson needed to make the top two in their pool with Chinese Taipai, Iran and Singapore to go through to the playoffs. "We lost our first game to Chinese Taipai, which was a bit of a shock, so we then had to get up for Iran, who ended up being third overall," Moore said.
"If we didn't beat them we were out of the competition. We lost the first set 21-17, then came back to win the next 21-11 and in the third up to 15, they were leading 14-11 with three match points, but we came back to win 17-15. That was definitely the highlight of the trip."
After beating Singapore, they got through to the next round on a points countback and a clash with No1 seeds Indonesia. They went down 21-17, 21-16 to the tournament winners leaving a showdown with Japan, which they won easily to make the Youth Olympics qualifying spot.
Moore spent the summer as a paid lifeguard at Omanu Beach to fund various tournaments but was grateful to have funding for China from the NZ Youth Olympics committee.
Tauranga Girls' College student Alexandra Lawrence and playing partner Olivia McDonald from New Plymouth also competed in Thailand but finished ninth to miss a spot at the Youth Olympics.