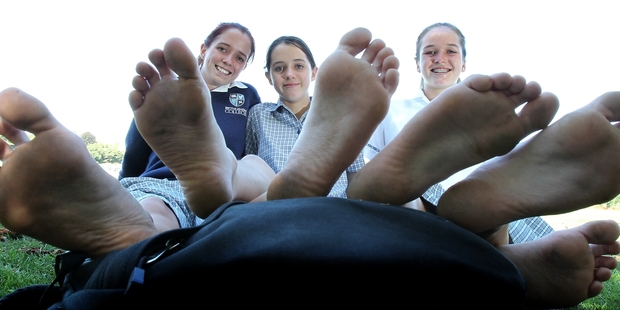 Running to keep fit and healthy is a daily obsession for many New Zealanders but for one Tauranga family it is vital to keeping two serious debilitating diseases at bay.
Sisters Morgan and McKenzie Ball have serious health challenges but thanks to the benefits of exercise are thriving on and off the track.
Dad Max Ball, who is a noted long distance runner, says running has been the key factor in keeping his daughters healthy.
"Morgan has bronchiectasis, a lung disease, so we kept her running to keep her fit, and then four years ago McKenzie got diabetes, so we kept her running ... with diabetes you can have lots of problem with your feet."
The two Bethlehem College students have used top-notch coaching, nutritional advice and a love of competing on the track to fire their passion for athletics.
At the prestigious Albany Summer Series held last month, Morgan, 17, won the 16-19 girls 10km race in 45:07 and McKenzie, 14, took out the
15 girls 5km event in 22:34.
For good measure, younger sister Cassidy, 11, competed against athletes over 40 to finish second in the 5km walk.
Morgan, who is a top four ranked 3000m runner at Waikato/Bay of Plenty secondary schools level, says running is fundamental to her staying healthy.
"I was born three months early and so I suppose that weakened the immune system and I got whooping cough. I have three dead patches in my lungs so even at this age if I am not running for two weeks I am just coughing and husky."
McKenzie is ranked highly at the 800m and 1500m school distances and says exercise has made it possible despite her diabetes.
"Exercise just keeps my levels in balance and where they are supposed to be, but if I do extreme exercise it can affect my levels in a bad way, but I control that. People with diabetes have to exercise to keep diabetes in check. Plus I love running!"
New Zealand's top sprint coach Kerry Hill, who is a Gateway Sports Science teacher at Bethlehem College, admires McKenzie for what she has to deal with on a daily basis.
"A lot of ailments can battled quite effectively
with improved cardio vascular fitness," Hill said.
"These guys do that with attention to detail and especially in McKenzie's case to keep the diabetes balanced at the same time as she is trying to train.
"It also impacts on her self-discipline as she has to suffer a bit in order to do all this work. It is not as easy as it is for everybody else so the struggle gives her strength to withstand other things in life."