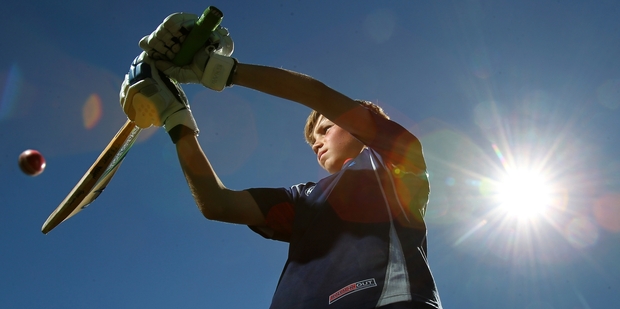 When Taylor Bettelheim stroked a ball away to raise his century last week it was a significant milestone.
The Tauranga Intermediate captain's ton against Te Puke Intermediate was his second in consecutive innings, which puts Taylor in a special club.
Black Cap Kane Williamson first made his mark with three centuries in succession batting at the national finals for Otumoetai Intermediate, but even hitting one century is rare at intermediate level.
Taylor says getting to the first 100 against John Paul College was much harder.
"The first 50 was pretty easy but it got much harder as I was physically getting tired. It was mentally hard to know how I was going and how the team was going," Taylor said.
At the drinks break, Taylor's dad Gary came out and told him he was on 90.
"That helped me because he said there were three overs left so I knew what I had to do."
Hearing the applause for his first ever century, at his home pitch in front of hundreds of his school mates during lunch break, was a special moment for Taylor.
"It was pretty cool to wave my bat. A great feeling."
Northern Knights and Greerton all-rounder Brett Hampton has worked with Taylor beside Tauranga Intermediate coach Aubrey Jeftha.
"Taylor opened the batting last year as well as a Year 7 and went quite well," Hampton said. "This year he had to step up as the team got a wee bit weaker and he has scored back-to-back hundreds, plus two 30 not outs off 10 balls to win games.
"We have had Jamie Oakley and Marcell Collett score hundreds so it is not totally rare, but two in a row is quite impressive. Taylor is working hard at Ben Williams' Academy. He attends the camps and is having one-on-ones with Ben, which has made a difference."
Asking Taylor who his favourite batsman is gets a rapid reply.
"Kane is my favourite batsman. I have talked to him and Trent [Boult] a few times at the nets at Ben's place. I like watching him bat and he has given me a few tips."
When he is not playing cricket, Taylor loves tennis.
Last week he won the school's tennis title to add to his growing sporting profile.