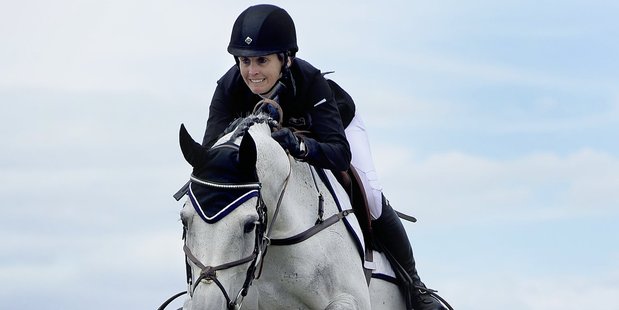 International star Samantha McIntosh took out a memorable double at the Tauranga Show Jumping Championships that ended yesterday afternoon.
On Thursday night's opening event, the 38-year-old won the Mills Reef Classic on Argento WHS and yesterday triumphed on the same horse in the featured Bayleys Tauranga Grand Prix.
The large crowd in attendance at the Tauranga Racecourse was enthralled as the 40 riders were whittled away in the balmy late summer conditions to just six for the ride-off.
McIntosh, Luke Dee and Jack Lambert rode clear rounds while Vicki Wilson, Olympic rider Katie McVean and Tessa Williams all had four faults. So the first prize of $2500 was decided by the fastest round, and it was McIntosh (35.67 seconds) who took it from Dee (36.83) with Lambert (37.11) third.
McIntosh won the same grand prix in 2012 and is impressed with the set-up.
"The course builder did a great job. It was technical, it was within the right height specifications, and it got about the right number of clears and a hot jump off," she said.
"I was able to watch Luke (Dee) go, which was a big help, so I knew the tracks he had taken and where I could possibly shave off a little bit. The course was set out so there wasn't a whole lot of options, so it came down to accuracy and the natural speed of each horse."
McIntosh was based in Europe for 20 years and rode for Bulgaria at the 2000 Sydney Olympics, in five European championships and three world championships.
Now based in Cambridge, she particularly likes the Mills Reef setting that opens the four-day event.
"It was a lovely event and it would be good to see more occasions like that in New Zealand. It is really, really beautiful there and a lot of fun competing with so many people watching.
"Overall the organisation, courses, equipment and conditions are good and the event is right up there, if not better, with all our three star shows."