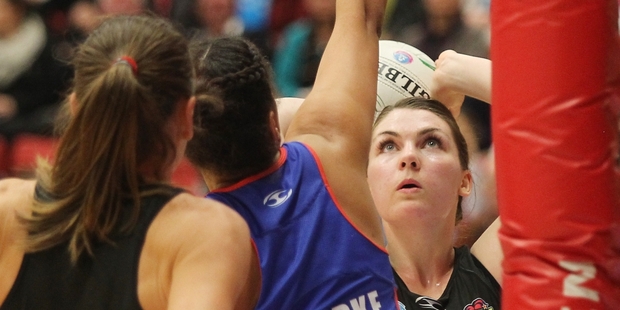 A new-look Waikato Bay of Plenty Magic opened their 2014 ANZ Championship account with a forceful 70-46 win over the Mainland Tactix in Christchurch on Saturday.
Undergoing the most changes of any of the 10 teams in the competition with nine new personnel and a new coach in Australian Julie Fitzgerald, the Magic put an indifferent pre-season behind them with an impressive first outing.
Magic were unwavering in their intent, maintaining a high degree of intensity and hunger throughout as they dominated across all sectors. Seamless flow on attack and relentless defence were the hallmarks of the Magic game where they showed precision and clinical finishing.
Enjoying a bounty of ball, shooters Ellen Halpenny and Jo Harten proved irresistible under the hoop, missing just four of their 74 attempts, England international Harten just failing to record a perfect match with 41 from 42 attempts. Halpenny was equally accurate with 29 from 32 in helping deliver a 94.6 per cent success rate for the pair.
Tactix new shooting recruit Mwai Kumwenda, the Malawi international, became the first player from the East African country to play in the ANZ Championship.
Both teams delivered a quality standard of netball in the opening match of the new season before Magic upped the tempo, four goals in a row pushing them into the lead with goal attack Halpenny in the thick of the action.
Halpenny's combination under the hoop with her old Tactix teammate Harten proved pivotal, an intuitive understanding and accuracy helping the visitors take a firm grip on proceedings.
At the other end of the court, the Silver Ferns defensive duo of captain Casey Kopua and Leana de Bruin were a forceful presence as they put the squeeze on the Tactix shooters. A powerful finish to the quarter gave the Magic a handy 19-12 lead at the first break.
The Magic exploded into a position of control during a dominant second quarter.
There was great connection on attack from the Magic where slick transition was interspersed with patient build-ups, Courtney Tairi revelling at centre for her new team while Harten and Halpenny showed an intelligent range of skills and accuracy as the impressive Magic took a comprehensive 37-23 lead into the main break.
The relentless Magic wave continued through the third stanza where the teenaged Jamie-Lee Price took over at wing defence from Bessie Manu. Restricting Tactix to just 10 goals, the Magic were seamless in their attacking forays while presenting a forceful effort on defence.