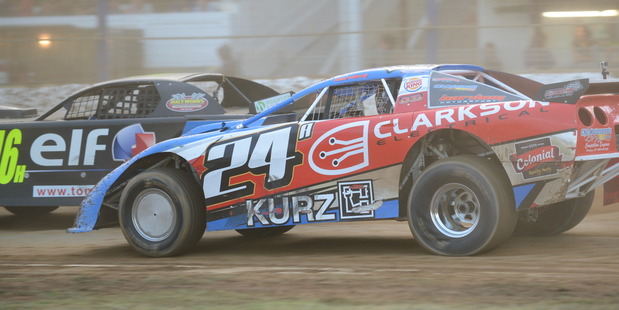 The first weekend of competition in the Burger King Pro Dirt Super Saloon Car Series produced wins for Napier's Grant Flynn and Auckland racer Ben Harding.
The seven-round touring series - which continues at Gisborne tonight and then rolls into Baypark Speedway tomorrow night for round four - is already producing some fierce racing.
The opening round at Napier's Meeanee Speedway last Friday night produced a hometown win for Grant Flynn who battled throughout the 25-lap main event with national champion Mark Osborne (Baypark).
Baypark's Dean Waddell was third in the feature race ahead of Harding, Wellington's Mark Pitcher and Aucklander Lance Jennings.
It was pretty much the same drivers to the fore the following night at Te Marua Speedway in Upper Hutt.
Harding started on the second row of the grid and completed a pass on top qualifier Osborne as they raced side-by-side for several laps. Grant Flynn was again a contender, taking third ahead of Pitcher, Jennings and Waddell.
Points for the series - which are scored in heat races with bonus passing points and the feature event - weren't available. But with Osborne's two second placings, a first and third for Flynn and a first and fourth for Harding, a close battle at the top of the leaderboard was likely heading into the Gisborne meeting.
Baypark-based defending champion Brent Emerson was ninth at Napier and seventh at Te Marua in his Shelby Cobra.
The debut of the new Super Saloon built in Kentucky by Killer Chassis for former national champion Mick Quin revealed potential with a 10th-place finish at Te Marua.
For the Baypark round, local super saloon car drivers can join the Pro Dirt series regulars, meaning a field of nearly 30 cars is expected to compete for a spot in the 24-grid feature race line-up.