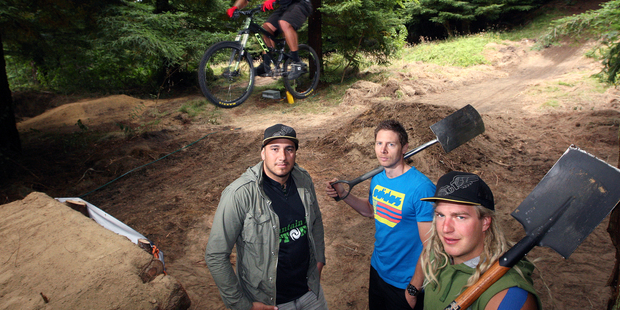 With the second Rotorua Bike Festival just over a month away, entry numbers are already well up on 2013 and one event has all but sold out.
The Skyline Sprint Warrior was a popular highlight of the first festival in 2013 and is returning on February 21, with only a handful of entries left.
It is easy to understand the attraction. The course, at Skyline Skyrides on Mount Ngongotaha, is the only gondola-access mountain bike trail in the North Island and was the venue for the biggest cycling event Rotorua has hosted, the 2006 UCI Mountain Bike and Trials World Championships.
New in 2014 is an Open Day on February 20, with entries also selling fast. "This will be a chance for those racing the Warrior the next day to get an early look at the race course and for other riders to sample some of the other trails our expert builders, Empire of Dirt, are constructing at the Skyline Gravity Park," said Tak Mutu from Mountain Bike Rotorua.
Another successful event from 2013 is back, the day after the Sprint Warrior.
The Giant 2W Gravity Enduro is on February 22. It features some of the best trails in Whakarewarewa Forest network, with shuttles to the start gates of timed stages, and is the fastest growing style of mountain bike racing worldwide. Entry numbers for the 2W are already up on last year's event with the limit rapidly approaching. "If people don't want to miss out they should enter very soon," says event organiser Neil Gellatley.
Ibis Bike the Lake is a regular part of the Rotorua cycling calendar, though this year will see the first Summer Edition.
The first weekend of the festival on February 16 will provide an opportunity for riders to circumnavigate Lake Rotorua on a road bike, with another event scheduled to start and finish right in town on the Village Green by the lake front.
Organiser Shane Hookes is pleased with entries.
"We're well on track and we've got plans to be a bigger part of the Bike Festival in 2015."
Bike the Lake features one lap of 42km for recreational riders or a two-lap option for more competitive bikers.
"And that's what the festival is all about - events for all ages and skill levels," said Rotorua Deputy Mayor Dave Donaldson, a long-time cycling advocate and a member of the Rotorua Bike Festival Trust.
"What's great is there are events for everyone - road, mountain bike and BMX - from little kids on push-along bikes right through to our most talented, skilled and fearless international athletes, and all under summer skies."