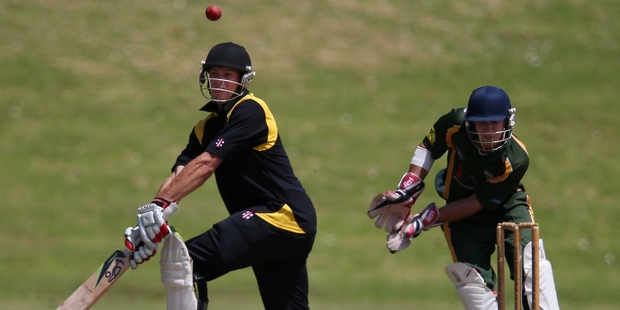 Element IMF Cadets have gone top of the standings for the first time this season with just two Baywide Cup rounds left before the top two teams meet in the title decider.
Last Saturday produced another epic contest between Cadets and defending Baywide Cup champions Mount Maunganui.
In what proved a battle of attrition, Cadets prevailed in a match in which the bowlers from both sides grabbed the ascendancy.
This weekend Cadets will face another stern challenge when they play Eves Realty Greerton at Pemberton Park.
Greerton lurk just off the pace, third, and a victory at the weekend will give them a royal chance to fight out the Baywide Cup final on December 14.
The Cadets bowlers will need to shut down Greerton master-blaster Brett Hampton, who could put Fraser Street under siege if he is allowed to hit his stride.
Much of the success of the Greerton side this season has come from the allrounders in the side. Hampton, Tom MacRury, Shane Wineti and Cameron Neal are equally at home with bat and ball.
Mount Maunganui will want to bounce back from their first loss of the season, with East Bay United likely to feel the Mount's wrath.
City Sports Bar Te Puke, who have moved back into the top four, need to beat Tauranga Boys' College to retain an outside chance of making the Baywide title decider.
A Rotorua derby will take centre stage at Smallbone Park, where Central will square off against BOP Indians.
Baywide Cup draw, November 16: Tauranga Boys' College v City Sports Bar Te Puke (Nicholson Field); Eves Realty Greerton v Element IMF Cadets (Pemberton Park); East Bay United v Mount Maunganui (Rex Morepeth Park); Central v BOP Indians (Smallbone Park)
Baywide Cup points: Cadets 83.5, Mount Maunganui 81.00, Greerton 73.5, Te Puke 63.5, Tauranga Boys' College 61.5, Central 58.00, BOP Indians 39.5, East Bay United 30.5.