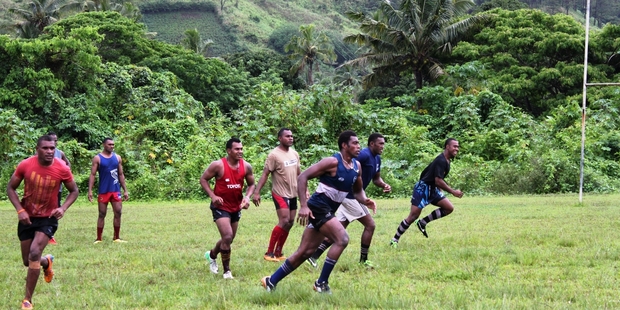 There are not too many international quality sports teams who have to train on overgrown, uneven sodden training pitches with rickety old goal posts and no lines painted on the field.
But none of the Hideaway Hurricanes sevens players were complaining as they put together some remarkably accurate and skilful moves at training ahead of the Bayleys Fiji Coral Coast Sevens starting in Sigatoka.
What better way to build up mental resilience and physical strength - especially in the lower legs - than training in these conditions. No wonder they are so lightning quick when they get to play on a top class surface.
The larger-than-life character overseeing the Hideaway Hurricanes' training was former Fijian international prop Peniasi Damu.
The 46-year-old is a security officer at the Hideaway resort and is a strong believer in self-discipline. He has set his team a no kava ban for the two weeks leading up to this weekend's huge event.
Damu has a strong connection with Bay of Plenty. He worked in the kiwifruit industry during what he calls great years playing for Rangataua, before he finished his Tauranga sojourn with two seasons at Greerton Marist.
He made the Bay of Plenty B team before finishing his career with a lucrative five year stint in Japan for Mitsubishi in Kyoto alongside the great Fijian Waisale Serevi.
"I loved playing for Rangataua. They were big boys," Damu said.
"I played under Bill Harawira who was a good coach and I liked playing with the Maori guys. They are good people.
"Now I love coaching my people here. I have been coaching Hideaway for three years and they are a good team.
"We picked up the captain of Red Rock's winning team from last year, Jasa Veremalua. He lived nearby so we offered him a job and he plays for the resort. He brings some more experience to what is already a good side.
"Our goal is to make the quarter-finals at least but the tournament has the best teams in Fiji playing. We have a tough pool but we are hopeful."
Three Fijian internationals were among the group trudging through the mud as part of a two week camp. The rest of the squad are members of the champion Nadroga team that holds the Fiji version of the Ranfurly Shield - the Farebrother Challenge trophy - and are the national league Digicel Cup holders.
Despite the conditions, they went through their set plays with extraordinary precision, pace and enthusiasm.
The Hurricanes are just one of 17 Fijian teams in the men's draw trying to win the whopping $39,358 prize pool on offer and impress new Fijian Sevens coach Ben Ryan from England.
Serevi is one of the star turns at the Baileys Fiji Coral Coast Sevens alongside England star Ben Gollings and coaching guru Sir Gordon Tietjens.