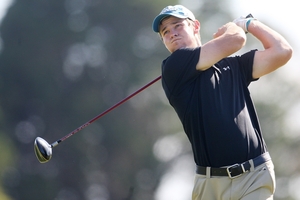 Craig Hamilton was so keyed up for his brother James to take out the John Jones Steel Harewood Open that he forgot all about his own game.
He still finished well enough to tie for sixth in this, his rookie year as a pro, but the 21-year-old admits what was happening with his brother playing in the group behind him became the main focus.
"I forgot about my golf as it didn't matter that much because I was thinking about how he was getting on," said Craig.
"Someone told me Josh Geary birdied the 16th so James was one behind and I was a bit nervous, then I heard James birdied 17. I watched him play down 18 and his second shot into that green was just incredible. It was a hybrid from the rough from maybe 230 metres and it just didn't stop running.
"Myself and everyone were yelling 'Get up there, get up there' and it got up on top of the green.
"Then he holed his eagle putt and man we just went nuts. Absolutely nuts. It was great and I am so happy for him. It was just amazing. I was also happy for my girlfriend Grace [Senior] who came second in the girls' division."
The upshot of big brother's win is that along with Mount Maunganui pro Ben Taylor, they all travelled home in style yesterday with first class seats on the Interislander ferry after a bet was laid on the trip down south to play three tournaments.
"We got the Interislander ferry and there is a deal for $45 per person upgrade to go up to first class. We made a pact between the three of us that if one of us won one of the events they would upgrade everyone.
"We are all stoked with that as James upgraded us all to first class on the way back.
"We took a video of that putt going in and the last thing you can hear is: 'Yes we are getting an upgrade!"'
One thing Craig did beat his brother in was a side-bet on the Christchurch swing of events in Kaikoura, Rangiora and finally Harewood between the three pros.
"We had seven rounds in total and we said we would pay $100 each and the winner takes all from the three of us. I played quite well at Kaikoura and Rangiora and won by seven shots overall but James beat me by 11 at Harewood."