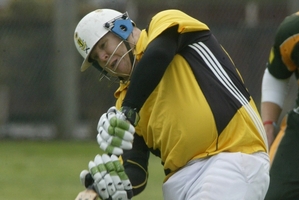 Greerton cricketer Murray Jarvis is not often compared to a fine maturing red wine, but after the veteran bowler's match-winning performance for Tauranga on Saturday it is appropriate.
Jarvis produced the best figures of his career at Attrill Cup level of 6-31 as Tauranga swept aside Eastern Bay's batsmen for just 92 at Fergusson Park. The 40-year-old stuck to the old adage of putting the ball in the right place and reaped the rewards after some less-than-judicious strokes were played.
He was helped by sharp fielding, not least an outstanding catch by Joe Carter to send back Northern Knights bowler Graeme Aldridge.
"That is my best performance for Tauranga," said Jarvis. "... Today we played on a grass wicket which always suits me more. The ball was doing a little more off the deck and there was a little bit of swing as well. And I just pitched it up."
Jarvis first played for Tauranga when he was 19 and he is now into his 23rd season with Greerton after two seasons with Tauranga Boys' College.
He began as a hard-hitting top-order batsman but over the years has morphed into a specialist slow seamer, making use of his bowling skills nurtured during his years as a top-class indoor cricketer.
"I like to get myself involved in all aspects of the game because it is just boring if you are just fielding. It all stems from indoor cricket when I bowled off a short run-up and have just carried it through from then."
The popular cricketer with a famous liking for one-liners says his passion for the game is as great now as it ever has been.
"I just love the game, mate, ever since I started playing it. But it is also about playing with 10 other guys and the whole day's cricket in a team environment. I really like that team environment.
"I know I will be dropping down to the reserves at some point but I would like to give it 100 per cent every time I play. I just enjoy it.
"Greerton is in very good shape at the moment. The players we have got include two or three in the Bay team but the other guys on the fringe of playing for the Bay can only be good for the club.
"It kind of drives the other guys coming from Boys' College towards Greerton as well which we haven't had before in the past. The guys we have got are just awesome."