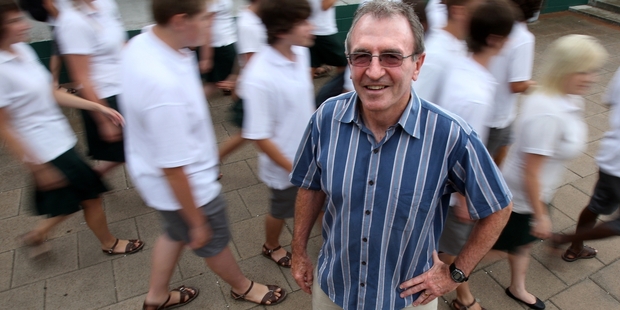 Two of New Zealand's most acclaimed and successful coaches are holding a volleyball coaching development seminar tonight.
Stewart Henderson and Richard Casutt will facilitate the free seminar that is open to coaches and managers at ASB Arena from 5.30pm to 7.30pm.
Henderson is New Zealand's most accomplished secondary school coach, winning 10 national titles with Otumoetai College girls' teams. Henderson has also won three national club women's titles and has coached New Zealand women's and age-group representative teams.
He agreed to share an hour speaking on the subject "What, who and how are you coaching?"
Henderson will also give a brief history of his coaching career and influences.
Casutt has been the driving force behind the North Harbour volleyball programme and has won multiple club and IPC championship titles with one of the powerhouses of New Zealand volleyball.
Casutt also spent some years in Adelaide coaching athletes from the South Australian Sports Institute. It was there he coached the USC Lions to an Australian Volleyball League victory and took Australian junior teams to world championships in 2005.
More recently Casutt coached Anna Harrison (nee Scarlett) and Susan Blundell on the FIVB World Tour. He spends some time overseas as an International beach volleyball referee and worked at the 2008 and 2012 Olympic Games.
Casutt will take a one hour on-court session focusing on setting and defence.
"Good coaching is about ongoing learning," said CoachForce Volleyball's Edwin O'Dea.
"Every year coaches expect athletes to be better at what they do, so it is only fair to expect the same of coaches.
"These two presenters will challenge and inform coaches at all levels," O'Dea said.
As this is the evening before IPC Championships begin, the format will be fairly relaxed. It will allow coaches to see the playing courts, enjoy nibbles amongst people who share their passion and most of all learn from two great personalities.
To register, contact Edwin O'Dea 027 333-0390 or email volleyball@sportbop.co.nz
Summer season starts with a bang
On the back of a successful winter for volleyball in the Bay of Plenty, the summer season starts in Tauranga this week.
CoachForce Volleyball's Edwin O'Dea and administrator Maria Woods have been extremely busy over the winter months preparing for the next six months of full-on volleyball.
This week, the newest version of development volleyball called Rotational Kiwi Volley or RKV for short will begin. It has been trialled in Bay of Plenty schools where it has proven a huge success.
Mauao Volleyball Club, in association with Volleyball Bay of Plenty, will host the first official league for RKV during Term 4 and it looks to be sold out in its first round.
Children and their families are able to head along and see what it's all about on Friday at the ASB Arena from 10am.
As if a new version of the game and a regional coaching forum wasn't enough, Volleyball Bay of Plenty will host the Inter-provincial age group teams (Under-17 and Under-19) of North Harbour, Waikato, Bay of Plenty, Taranaki, Wellington and Hawkes Bay. The big guns for Bay of Plenty teams are Max Schroder (Tauranga Boys' College), Junior Taia (Western Heights) and Alice Bain (Tauranga Girls').
All games start tomorrow at ASB Arena with finals Friday afternoon.
Wrapping up a stellar week, Volleyball Bay of Plenty host the first of the Mauao Beach Volleyball events on the main beach on Saturday.