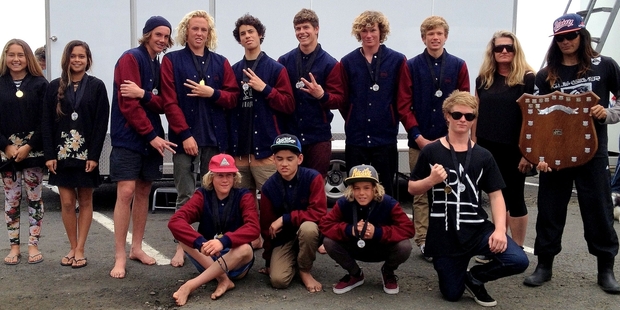 The Bay of Plenty Junior Surfing Team have defended their title, winning the 2013 National Scholastic Surfing Championships at Piha.
The triumphant Bay of Plenty team continues to dominate junior surfing in New Zealand.
This title is the fourth time they have won in five years.
The final day of the event was played out in wobbly 1.5m waves at the south end of Piha with the teams title effectively decided by the final few heats of the day.
Bay of Plenty claimed only the one title, that of the Under-14 Girls Division won by Raiha Ensor (Mount), but they were represented in five of the eight finals contested, with seven finalists in total. The team also had a string of consistent results from the five other contestants.
For the second consecutive year, Auckland placed runner-up at the event, unable to match Bay of Plenty on the final day despite having eight finalists and taking home two titles in the premier Under-18 divisions.
The Auckland team had hoped that the advantage of the event being held in their home waters was going to be enough to get them across the line for their first team title.
The remaining four individual titles were shared around the regions with Manu Scott-Arrieta winning the Under-16 Boys Division with a last minute wave that pushed him ahead of Callum Chuter (BOP). Scott-Arrieta's win elevated Northland to fourth on the team points, their best result at the event.
Taranaki claimed the Under-14 Boys Division, which was won by Daniel Farr in the most dominating performance of the finals rounds. Farr posted a 14.17 point heat total leaving his opponents requiring a combination of scores to catch up.
Gisborne took their title through the performance of Jasmine Smith in the Under-16 Girls Division.
The final title of the event went to West Coast bodyboarder Harry Bell in a close final. Bell was part of a small team of four surfers from Greymouth who made the journey up to the event by road to their first Scholastic Surfing Championships experience.
The final award for the event was the newly-created Adam Clegg Trophy which was awarded to the most improved surfer. Clegg was part of the Taranaki surfing team but was struck down by a virus and passed away less than two months ago.
The Adam Clegg Trophy for the Most Improved Surfer went to Gisborne's Jack Virtue, who placed fourth in the Under-16 Boys Division but had ripped his way through the preliminary rounds. He won the award over Bay surfer Lee Ririnui who put on some excellent performances in the Under-14 Boys Division.