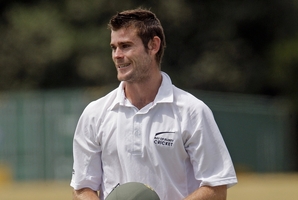 Vast cricket experience and two current Bay of Plenty representative players, who have added coaching to their repertoire, highlight the Bay of Plenty age group cricket coaches appointed for the 2013/14 season.
Mirroring the success of the BOPCA player pathway, a similar coach's programme has been established by Bay of Plenty Cricket. A good illustration is the success of the current Bay of Plenty senior men's coach. Last season Ben Williams took the Bay side to victory in the ND Fergus Hickey Rosebowl and Brian Dunning (one-day) competition and won and then defended the Hawke Cup three times.
Since first mentoring the Bay of Plenty Primary team in 2004, Williams has coached BOP and ND youth teams and in 2012 took his ND side to victory in the North Island Under-16 championship, with an undefeated record.
BOP Coastland senior secondary coach Pete Swan will be chasing back to back titles at the ND tournament to be held in Gisborne in December. Last year the Swan coached team defeated ND age group heavyweight Hamilton in a thrilling two day final to annex the ND silverware.
New BOP Lakeland senior secondary coach Mark Crawford has earned his new stripes, courtesy of successful campaigns with the Bay Primary and Junior Secondary teams in recent seasons.
While BOP Lakeland junior secondary coach Mitch Farnell is making his Bay of Plenty coaching debut, he is highly experienced. Farnell coached the Cook Islands team in the ICC Asia/Pacific World Cup qualifying tournament in Auckland.
BOP Coastland junior secondary mentor Peter Drysdale combines playing for the Bay's first eleven, with coaching the Bay age group side for the second successive year.
Freshly appointed BOP Coastland primary coach Tim Clarke is another to mix coaching with playing duties. Clarke, who is the incumbent Bay of Plenty wicket keeper, will take his first step on the BOPCA coaching pathway in round one of the ND tournament on the 24 November.
Conversely BOP Lakeland coach Dave Richardson, the Rotorua Cricket Association development manager has a wealth of playing and coaching experience and holds both Australian and New Zealand Cricket level three coaching certification.
BOPCA secondary schoolgirls coach Simon Turnbull played for Indonesia some seasons ago. Turnbull has coached the Katikati College primary team to victory in the Bay of Plenty division of the NZ Shield this year.
BOPCA Age Group Coaches 2013/14:
Senior Secondary
BOP Coastland: Pete Swan; BOP Lakeland: Mark Crawford.
Junior Secondary
BOP Coastland: Peter Drysdale; BOP Lakeland: Mitch Farnell.
Primary
BOP Coastland: Tim Clarke; BOP Lakeland: Dave Richardson.
BOP Secondary Schoolgirls: Simon Turnbull.