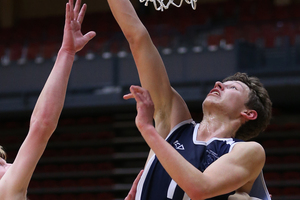 Tauranga Boys' College's top basketballers geared up for next week's secondary school nationals with a commanding 110-54 win in the local secondary schools final against Otumoetai College.
Banged up and missing a number of key players, the top qualifiers were never threatened.
Towering centre Zachary Easthope finished with 44 points and about half as many rebounds in a performance that locked the inside down for the competition frontrunners.
His influence on the offensive glass was enough to decide the contest, but in truth Tauranga Boys' dominance extended right across the court.
New Zealand volleyball rep Brad Fullerton was especially impressive on the wing, finishing with an efficient 31 points.
His combination with star guard Ashton McQueen, who made a cameo appearance off the bench despite an injured ankle to sink a three-pointer in the second quarter, will add another dimension to this already impressive offence.
With a strong bench, point guard Caillan Rigby-Hibbard pushing the ball and initiating the offence, McQueen and Fullerton on the wings and Easthope and absent big man Jasper Wills in the middle, the Tauranga school has a real chance of making their mark on the national stage.
This final was decided in the third quarter after Tauranga Boys' led 49-30 at the break.
They held Otumoetai to five points while pouring in 29 at the other end, opening up a huge 43 point lead heading into the final quarter.
Jack Neale was the standout for the losing side, finishing with a team high 13 points including a pair of three pointers and a number of eye catching plays.
He got some nice assistance from Landon Ebeling and Jack Boyle, but the Otumoetai players were always outsized and overmatched.
Aquinas College earlier won the girls final 49-37 against Waihi Girls'.
Courtney Wilson had a game high 20 points, with Ellie McManaway and Anna Kamisawa also reaching double figures.
Tauranga Boys' College 110 (Zachary Easthope 44, Brad Fullerton 31, Sam Smith 20)
Otumoetai College 54 (Jack Neale 13, Matthew Ensor 10, Landon Ebeling 8)
Aquinas College Girls 49 (Courtney Wilson 20, Ellie McManaway 12, Anna Kamisawa 10)
Waihi Girls 37 (Petra McCowatt 13, Korrina Lindsay 7, Emily Manktelow 9)