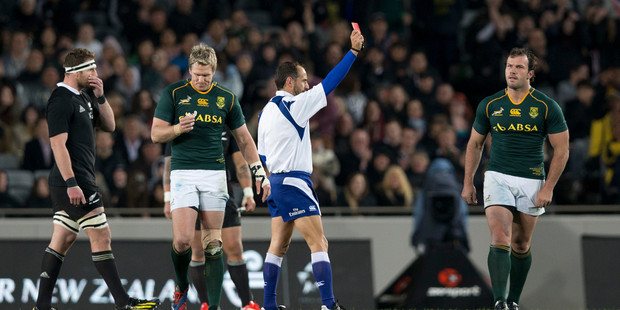 Saturday night's test match between the All Blacks and Springboks should have gone down in history as one of the all-time classic encounters between the world's two greatest rugby powers.
It had everything - two superbly drilled teams with no obvious weaknesses and a sold out Eden Park where the All Blacks have not lost since 1994.
The first half was the most compelling 40 minutes of rugby I have watched since that night at Eden Park when we somehow held on against France to win the Rugby World Cup.
The intensity of the physical confrontations was frightening and nothing beats a showdown with our greatest rugby nemesis. But the game was ruined by the incompetent French referee Romain Poite who made some howling blunders, not least the yellow card to Springbok hooker Bismarck du Plessis in the first half after he legally smashed Dan Carter in a ferocious tackle.
Another dubious call to yellow card Bismarck early in the second spell meant an automatic red card and the game over as a contest.
At the time he was sent off the All Blacks were just hanging in there and it would have made for a tense finish. Sanzar must insist on getting the best referees here for games of this magnitude. Poite had no idea how to sort the messy scrums out and his decision making around the ruck and mauls was as complicated as the traffic angles around the L'Arc de Triomphe in Paris.
The highlight of the game for me was how three young men stood up to be counted in the toughest rugby cauldron. Sam Cane, Beauden Barrett and Dane Coles have alleviated any concern there may have been as to who will replace the ageing McCaw, Carter and Hore.