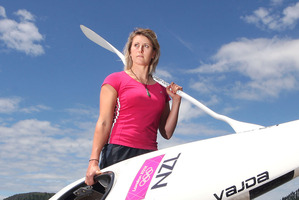 Tauranga's deserved reputation as a premier nursery for world-class paddlers will be enhanced further this week when three local paddlers line up at the world canoe slalom championships in the Czech Republic.
Olympians Luuka Jones and Mike Dawson are joined by young tyro Ben Gibb at the championships, which open today at the Prague Canoeing Centre in Troja.
Jones is coming off her best ever world cup result - a 13th-placing in the latest K1 round in Slovenia - and has used Prague as her European training base this year.
"The most recent world cups were good for me and I found a comfortable way to race and had a good mindset," Jones says.
"I really just want to replicate that composure this week and not to get caught up in the hype and temptation to try and paddle too fast, which can lead to penalties and mistakes.
"If I can have a race I am proud of then I'll be happy."
Dawson is back to his best after nine months out after breaking his back in an extreme race at the end of last year.
He is up to 22nd in the world cup rankings and is confident of doing well in Prague.
"I feel like I'm getting some decent fitness and competition behind me now and I'm really looking forward to testing it against the best in the world," he says.
Gibb is ranked No 1 in the NZ Senior C1 Men division and has been based in Prague for five months.
The 21-year-old made the semifinals of a world cup last year and has been working on eliminating errors to get back to that level.