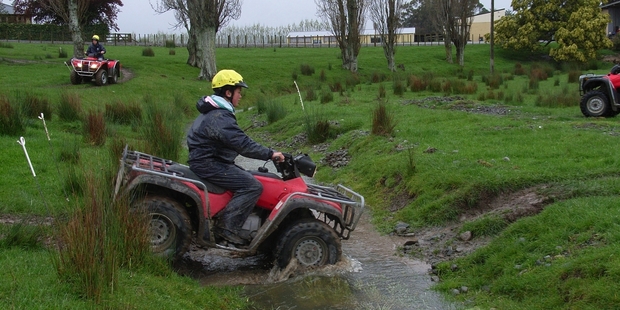 Quad bikes will be under the spotlight as health and safety inspectors gear up to target farms in the Bay of Plenty.
Media adviser Britton Broun said the Ministry of Business Innovation and Employment visits tended to be unannounced and were a pivotal part of the Quad Bike Harm Reduction Programme.
About 90 inspectors are involved nationally in quad bike assessments or investigations of quad bike incidents.
"International experience shows that enforcement is a critical component of any behaviour change initiative."
Ms Broun said farm inspections were a critical part of the ministry's work in reducing workplace deaths and injuries on farms.
There were indications the quad bike campaign message was hitting home.
"However, the number of fatalities for quad bike use on farms is still high, which highlights the need for the ministry to continue our enforcement campaigns and to work with the farming sector to reinforce the basic messages."
National programmes support and design manager Francois Barton said it had been running the quad bike safety programme for a little over two years. "Every year, 850 people are injured on farms riding quad bikes and five die. For many of those injured, it was over a week before they could resume normal farming duties. If you can't work, you can't farm." Federated Farmers spokeswoman Jeanette Maxwell said farmers had health and safety plans and needed to remember to update them.
"To be fair, it can be good to have the inspectors come on the farm because if they don't, how else are they going to see if somebody is making a mistake?"
But she said the issue needed to be kept in context and the number of quad bikes deaths had remained relatively static.
"I know we have to get that message out there but considering we have about 100,000 quad bikes we have probably got better.
"To me, it's about health and safety full stop not just to focus on one thing, I mean we have got far more farmers dying of suicide."
There has been one work-related quad bike fatality in the Western Bay of Plenty this year.