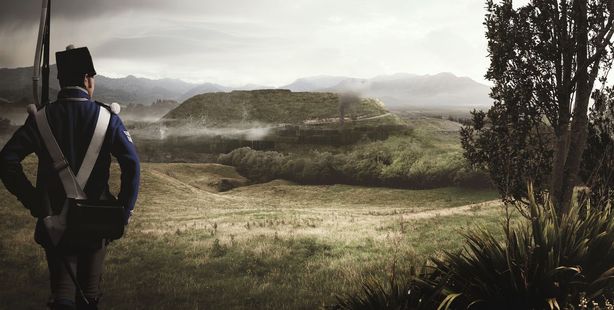 The Taiaha of knowledge is a powerful weapon and one that the late great Sir Apirana Ngata implored Maori to pick up when they faced future battles in their lives.
Eighteen months ago, I invited then councillor Terry Malloy to come and have a korero about creating a taiaha of knowledge for the tamariki of Tauranga Moana, by attempting to tell the story of the Battle of Pukehinahina - Gate Pa. If he knew then what he knows now, he would have said thanks but no thanks. But Terry, being the good bugger he is, stepped up and tomorrow the telling of that story in the form of an exhibition will open for our community to pick up the taiaha of knowledge.
When we sat in my office to contemplate how we could tell the story of the Battle of Gate Pa, we set our sights on a couple of old shipping containers and parking them on the Greerton village green, across the road from where we were sitting, in hope that schools and locals would come and try to gain an understanding of what took place on April 29, 1864 and why.
Fast forward 18 months and, together with a dedicated team of loyal soldier, whom both Cameron and Puhirake would have been proud to have behind them, we have an exhibition that will give Tauranga a taiaha of knowledge like no other, for future generations to learn from.
There were more challengers than a Gate Pa powhiri to overcome, when trying to tell a story from both sides of the trenches. Who was right and who had the right to tell this story constantly came up, many from the usual suspects who hold on to history like a security blanket, refusing to let it go in case it exposed their own insecurities about where they stood as a fellow citizen walking this planet. Cultural camouflage, as I see it, is a destructive self-centred korowai, worn by those who feel they own the past and have no intention of sharing it, unless it is their version.
Thankfully, we had a library of learned scholars willing to help and a wise paepae of kaumatua and kuia supporting the kaupapa every step of the way. These true leaders within our community could see the opportunity to bring a better understanding and hopefully the avenue to reconcile the injustices of bygone days.
Exhibitions for our instant generation of today's tamariki have to be "edu-taining" if they are to connect the message with their minds and only time will tell if we have been successful in doing this. All of us involved invite you to take your tamariki to the Battle of Pukehinahina Gate Pa exhibition, where they can pick up the taiaha of knowledge and arm themselves with their own understanding of what happened and why on April 29, 1864.
This will be an exhibition where the community of Tauranga can come together, not to celebrate but to commemorate, to understand and to honour the historic battle that took place 150 years ago tomorrow. We have created a pathway for the viewing public to follow. One pathway is the young colonial soldier starting at his homeland, leaving his loved ones to find a better life on the back of the battles he will fight for the Crown.
The other is of a young Maori boy born into a time of peace and prosperity, who has to put down his gardening tools and pick up a musket to defend his lands.
We follow them to where they meet on the battlefield of Pukehinahina Gate Pa.
Both of these young men carried no hatred for each other when they met on the battlefield of Pukehinahina and the essence of the exhibition bravely attempts to see what they saw and tell that story.
There is no blame to be gained from seeing and hearing the stories we have attempted to tell, that is a well-worn record that plays only to those who listen and live in the past.
Nau mai haere mai Tauranga Moana, come and see something special, a toanga, a taiha of knowledge that our tamariki can pick up and learn from.
Kei wareware tatou.
The exhibition runs from April 29 at noon, then every day at 10am-3pm until May 25 at Greerton Hall.