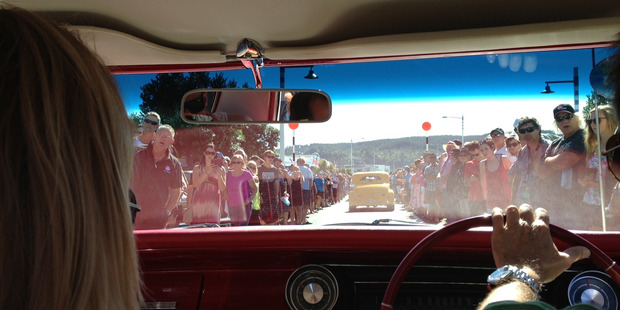 I'm not really a "car guy". Don't get me wrong, I'm a male, I'll watch speedway, drifting, V8s and rally along with the rest of my breed.
But I know nothing about the workings of an engine and struggle to see myself ever sinking huge coin into restoring a car. I'm just stoked if the car starts, at this stage!
It was my first Beach Hop last weekend in Whangamata. It's a weekend of men getting really excited by the cars they see, but trying to act if it's no big deal, which makes for some pretty hilarious people-watching opportunities.
We were in the parade, in a 1965 Chevy Impala. We turn up to a field beforehand and cars pour in for two hours straight, filling the entire field.
There was a guy revving the guts out of a pink Plymouth (his wife clearly got the say on colour). Just as he was getting really annoying, the car conked out and he had to get a push. To which a guy from the crowd yelled "cheaper to run that way mate, maybe you could spend the savings on a re-paint!" Brilliant!
But Beach Hop wasn't about revving your car loudly or doing burnouts, it was purely an excuse for thousands of likeminded people to have fun in the sun.
We stayed in Onemana, 10 minutes north of Whangamata. There was no cellphone reception there, which I loved! How apt that I was forced away from technology to celebrate a time when cars were designed with beauty, bulk, noise and character in mind.
It's a bit sad now that the common car is all about economy, reversing cameras, cheap parts and boots that shut themselves. On that note, shut your own boot. How hard can it be? Why is there even a market for that option?!
I was more into the stories behind the cars and their owners. There was one old fella and his wife with a 1915 Model T Ford. He was rocking a top hat and had a face that had seen a few late nights working on the car. He told me that his car was 98 years old and had been owned solely by his family. At one stage they had it on a platform, wheels off the ground and used its motor to power the milking machine on the farm. One day it shook itself off the platform, wheels hit the ground and it took off down the road, driverless, full-speed in to a Willow tree. Which is why its radiator has a slight bend in it. The best part is they left it like that, rather than fix it, because it's part of its history. Now that's motoring at its finest.
There were also a couple of brothers there driving an old Triumph. It had suitcases on the roof and had been restored pretty well. Turns out it was their grandfather's car. During the last week he was alive he told them both that he was leaving it to them. They were stoked, until he added his dying wish...never sell it! He told them he wants it kept in the family forever and if they sold it he'd come back and haunt them for the rest of their days. I can't decide if they restored it in his memory/honour, or if they were just packing themselves that he'd come back.
My favourite vehicle of the whole Beach Hop? The motorised couch we followed down the road. Three guys, one couch. Can you get a DUI while operating a motorised couch? Not that it went fast enough to cause any damage. Looked like it cornered like a pig too, which I guess you get with a couch!
If you've never been before, I'll see you there next year.
(Will Johnston is the host of Will and Bridget in the Morning-Classic Hits 95FM Breakfast Show in the Bay of Plenty. Listen every weekday from 6-9am.)