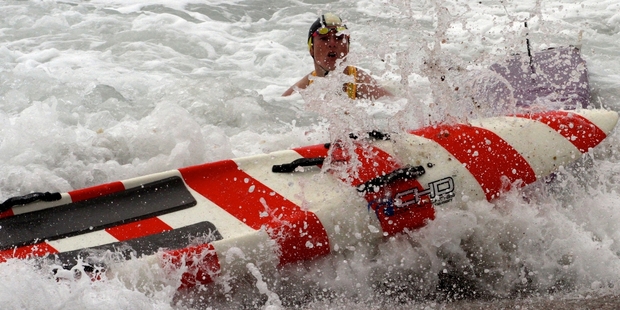 On Saturday I witnessed an ocean full of courage as hundreds of young surf lifesavers took on some pretty fierce waves off Mount Main Beach.
It was at the under-14 national champs - called Oceans 14 - and the youngsters took to the foaming waters as if they were unconcerned by the size and power of the waves.
They were worried, of course, but their courage shone through when they still went into the water knowing the conditions were so rough.
Many absolutely starred and used their training to get over the huge breakers, others got back on their boards after being knocked off and battled on, some barely made it off the beach before being smashed and their boards washed up on the sands for disqualification.
In the watching crowd there were "oooohs" and "aaaahs" as riderless boards raced out of control towards young athletes trying to remount their own boards.
There were more than a fair share of "watch outs!" and "oh my Gods" as nervous parents and club family feared for the youngsters.
Hovering near the action were the surf club IRBs, which swooped in to help struggling swimmers or unboarded riders. Orange beacons of safety in turbulent seas.
Seemingly in each race there was at least one casualty.
A teenage boy with half his tooth snapped off courtesy of a fast-moving board.
A Whakatane club girl clutching her chest as if she had also been rammed by one of the brutes, although later we found out she was having difficulty breathing after having too much salt water go down the wrong way. Her distress was upsetting for many in the crowd.
Another lad holding his leg after what looked like a hamstring strain.
Then we had many young girls in tears after copping blows to the head.
More tears were spilled in frustration and disappointment as favoured racers were unable to do as well as they thought they should have.
They were very hard on themselves as I reckon luck had a little to do with avoiding being dunked.
From my view they all were winners just by hopping in the water, let alone finishing a race or, indeed, triumphing in it.
Well done to all who participated and braved the elements. You should all be very proud of yourselves.
And congrats to Omanu surf club, which took out the champs with most points, followed by the Mount, with Papamoa and Red Beach tying for third place.
IN THE lead up to shifting house I did the usual ring around of utilities to change details, or accounts, or just flat out end the service.
I enjoyed "sacking" Mercury Energy, my gas provider, only for the fact that three years ago they demanded a $150 bond from me to put their service on.
"What?" I said at the time. "I'm 50, have owned my own house, will be having the amount direct debited each month ... why the need for a bond? I'm insulted."
Tough luck, they said, that's the rule.
So byebye Mercury. Next up it was TrustPower. Now I didn't mind paying more for being with them as they do give a lot back to the community and there is the yearly cheque, but I was a little sick of $320 a month power bills. So I called up to get a final meter reading and was gobsmacked when the gal said "There'll be a charge for that."
"What?"
"Yup, $40 to have someone read it."
"But isn't that all part of your business and service?"
"No. $40."
Crikey, I thought, that's pretty rich.
"Hang about," I went on. "If you read my meter it's $40. I want to know how much you will pay me if I read my meter - bearing in mind my hourly rate, of course."
Silence at the other end.
"Well my time is valuable - certainly more so than a meter reader."
More silence. Shouldn't have tried should I? Ah well, the 30-second job to read the meter was worth $40.
"Ruff, ruff ruff, ruff ruff, ruff."
That's a quote from Hairy MacLary who is very excited about he and his friends being released from storage to take up their rightful spot as the main attraction of Tauranga's city.
The group of dawgs - and a ferocious cat - have been incarcerated until enough money can be found to pay their ransom, which was around the $800,000 mark.
In the past week or so two very generous sponsors have put up big money to help have the gang proudly displayed by the inner harbour.
City Care handed over $100,000 and last week Priority One donated $70,000.
That only leaves $181,000 to go before all the wonderful sculptures can be publicly displayed for locals and visitors to delight in.
It has taken three years to get to this stage so if you are a business or corporation wanting to make a mark in this city then think about getting hold of Creative Tauranga and offering up some funds.
Hairy and Co are relying on you.
Richard Moore is an award-winning Western Bay journalist and photographer.
Richard@richardmoore.com