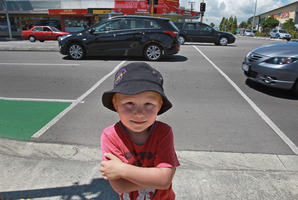 I answered the phone call from Alfie Jones' mum on Monday during which she explained she had a story we might be interested in.
You never know which of these unexpected calls is going to reveal a story that grabs your attention, shocks you and reminds you why you chose journalism as a profession.
Vicki Jones' call was one of those. She told me her 3-year-old son had escaped from a Tauranga kindergarten and walked home alone, crossing Cameron Rd in the mid-afternoon traffic.
As she spoke, I questioned whether I'd heard her say her child's age correctly, but yes, she confirmed Alfie was aged just 3.
Her frustration that such an event could occur had driven her to call the newspaper, giving her a chance to vent her anger and get the answers and accountability she deserved.
They are answers I'm sure a lot of parents are now waiting with interest to hear. A lot may be questioning whether their child could escape the seemingly safe environment of their daycare or kindergarten.
When a parent drops their precious bundle off, they expect them to be safe. Some would argue children are crafty and could escape their own backyard in record speed while mum or dad had their back turned. But people are less forgiving when trained staff are paid to keep their full attention on the children.
I'm sure the staff at Tauranga South Free Kindergarten feel terrible Alfie was able to pull a chair up to the door and escape with ease. I can't imagine the sheer panic that coursed through their bodies when they realised he had vanished.
The point is, it should never have happened.
While the formal investigations are under way, I hope the kindergarten, and others across the city, has taken action to make it impossible for any other child to do the same thing.