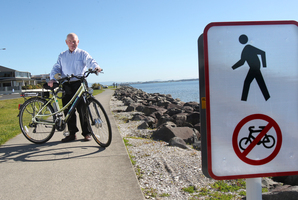 While Aucklanders debate Len Brown, here in Tauranga our own controversy splits the city: the Harbour Drive footpath in Bureta.
Just like Brown's future, Harbour Drive has divided Tauranga over who has the right to use this path - pedestrians or cyclists.
In July chief reporter Michele Hunter said that common sense should mean that the path can be shared. This week columnist Richard Moore waded in saying it comes down to "manners" on both sides.
In the Bay of Plenty Times Weekend, John Cousins reported pedestrians have organised a counter-petition to keep it as a footpath, in response to cyclists' earlier petition that persuaded Tauranga City Council to change the legal definition of the footpath.
Harbour Drive resident Stewart Taylor who organised the counter-petition posed the question; "where else in New Zealand do you get the right to ride on a footpath?"
While common sense and manners suggest that a path can be shared, the law doesn't. We uphold traffic laws for good reasons. Cyclists already flout laws about riding on footpaths. Often I have nearly lost the the back of my heels as a cyclist arrogantly whizzes past on the pavement. A pedestrian may not see or hear a cyclist. A child walking erratically may be bowled over. Bikes are ever more powerful, can travel at the same speed as cars and do serious damage.
The council is wrong to change the status of a footpath simply because cyclists wish. What if pedestrians wanted to stroll down the centre of Harbour Bridge?
Or cyclists wanted to share the runway at Tauranga Airport? Would council whack up a sign 'share with care', and would we remind motorists and pilots that a little bit of manners wouldn't go amiss?
Cyclists should stick to roads and designated cycleways. In the Bay of Plenty Times Weekend Julia Proverbs detailed Tauranga City's extensive cycle network. While there could be more cycle tracks here it should not be at the expense or safety of pedestrians.
I believe the previous council overreacted by jumping to change the status of the footpath. Otherwise where do we draw the line? Cyclists will want to ride on all footpaths. The issue goes before the council before Christmas - have your say.