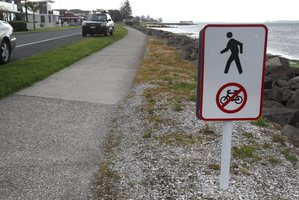 Hi guys and gals, it's good to be back.
I have missed my weekly chat with you and I hope you too have felt something was missing in your weeks.
Boy wasn't there a shake-up in the Tauranga City Council over the weekend?
The Old Guard has been blown away and a heap of new faces have been given the chance to turn SS Taurangatanic away from the financial iceberg.
Seven councillors were dumped and the mayor hung on by his fingernails.
Gone are Crs Faulkner, Guy, Moultrie, Molloy, Baldock, Christiansen and Deputy Mayor David Stewart.
It is the biggest rout I can remember in council elections.
Clearly people were in a mood for change and I'm thinking debt must have weighed heavily upon voters.
And so it should have, because our level of debt - $450 million (at least) - is frightening.
I also think the result was a really good reminder to all politicians that if you ignore people too often you will pay at the polls.
There is a very good lesson in that for John Key and Co, whose "we know best" attitude will cause National massive problems next year.
Issues of contention being asset sales, deep sea drilling and not listening to referenda.
Locally, I like to think I played a small part in raising the issue of our city's debt and now it is up to the new councillors to get stuck into it and start hacking it back.
It won't be an easy task but it has to be done.
Please do it openly and bring transparency to council business.
Have an independent audit and open up the books so we know just how bad the situation is. Take us into your confidence so we can work together as a city to get back on the right track.
And stand by, folks, as there are going to have to be decisions made that will not be popular.
Hopefully they will be well thought out and well planned, not an ad hoc series of one-off decisions.
People will no doubt want to know if I am disappointed not to have made it into council.
Yes is the answer.
Having said that though, my reasons for standing in the elections were to get rid of the former council and that has occurred.
So I am not too unhappy.
And I am not an envious chap, being pretty darn happy with my career and interests, so well done all the successful candidates and work hard for our city.
I will be keeping an eye on what is going on at council and - as is my style - will say things that I feel need to be said.
It will not be sour grapes or jealousy, just a concerned journalist who reckons one of his jobs is to monitor public bodies.
Will I stand again?
Hopefully not.
I really enjoyed the campaign, but if the new council does well by the citizens of our city then there will not be a need for me to hit the hustings again.
As both a cyclist and a walker, I find battles between the two-wheel enthusiasts and pedestrians over who owns a shared pathway to be stupid in the extreme.
It shows a lack of manners and upbringing on the part of whichever side reckons they have a bigger claim.
When I am cycling around on tracks and I come across walkers, I slow right down and keep as far from them as is possible.
When I am walking and I see or hear a cyclist coming, I move to the side of the track or path to give them a bit of room.
It doesn't take too many braincells to do that.
I have had instances where arrogant cyclists have zipped past me and they do tend to cop a verbal. I use short words because I know their tight Lycra probably restricts blood flow to their brains.
And I have also been victim of walkers who spread right out across a path - the Daisy Hardwicke walkway being the one in point - and I heard one of them say I had to give way to them! I would have thought it nicer to not take up the whole 4-metre wide path and allow a small gap for someone else to go about their journey.
As I said, it comes down to manners and if we all thought a little bit more about the other person then the problem is no longer a problem.
Wasn't that just an absolutely fabulous Bathurst 1000 yesterday?
It was gripping and the last hour of it was simply sensational and resulted in Ford winning its first Bathurst in five years.
Phew! Well done, Mark Winterbottom and Steve Richards.
Richard Moore is an award-winning Western Bay journalist and photographer.