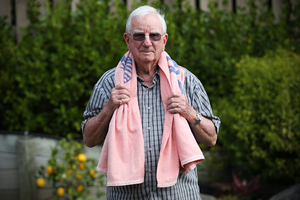 When I'm 84 I want to be able to exercise when I like, where I like.
By then I should have paid enough in taxes and rates to finance an entire gym and I'll be proud of myself if I'm regularly going to one.
In Tuesday's paper we brought you the plight of Tauranga 84-year-old Bob Poffley who, after two years' going to the Clubfit gym at Greerton pools, has been told he can't exercise before 9am.
He pays a cheaper seniors rate and after complaints from other gym users, Bay Leisure and Events chief executive Gary Dawson says staff have been forced to crack down on Seniorfit members paying the off-peak rate, but using the gym during peak hours.
Mr Poffley claims there are a maximum of six people in the gym when he starts his 8.15am workout, and he's never had to wait for a machine. The members who work have left for the day and if the gym was busy he'd be the first to admit he was getting in the road.
If this is the case, why can't some common sense prevail here?
If the gym isn't busy, where is the harm in allowing Mr Poffley to get on with his workout - which he likes to do prior to an aqua aerobics class at 9.30am?
I understand he's not paying for the privilege of a full membership but there has to be some reward for exercising beyond your eighth decade.
He claims the gym visits are delaying him being in a wheelchair, with his regular exercise regime no doubt saving the health system money.
Mr Dawson has agreed to ask staff to monitor gym usage in the mornings to see if the off-peak time can be dropped back to 8.30am, which would surely be a fair compromise.
To me Mr Poffley is an inspiration and his efforts to keep fit should be supported and rewarded, not just by the gym's management, but by other, younger, gym members.