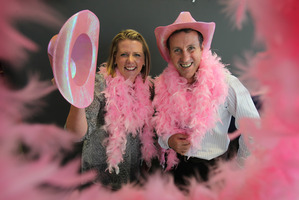 The annual "pink walk" has become part of Tauranga's calendar over the past decade, turning The Strand bright pink each October as thousands of women walk to raise money for Tauranga Breast Cancer Support Service.
It is uplifting to see the masses decked out in wigs, face paint and fun costumes.
Yesterday Kiri Gillespie reported that for the 11th walk, men can join in. Great news, yet it surprised me men had been excluded before. As many local families are aware, cancer has no favourites when it comes to age, gender or class.
Breast cancer's pink branding has been a global marketing phenomenon. Although the local breast cancer society has no affiliation with the well resourced New Zealand Breast Cancer Foundation, the pink walk has been able to harness the pink theme and give it legs - literally. It is a fantastic fundraiser for the many Tauranga women affected by breast cancer who can connect with a local service.
It is more than a fundraiser. It is a day when the community connects - old and young, sick and well, survivors, and friends of those who didn't make it.
There are many other cancers whose sufferers may fall under the radar, whose cancer doesn't have a colour, or a day or month to raise awareness and funding, or something that links them to the community.
This had never occurred to me before, until earlier this year when I took a phone call from Tauranga biker Grant Wilson. A cancer survivor of body and face tumours, he had tried to join Tauranga's Relay for Life event and was turned away because he didn't have a gold coin donation.
The story had a good ending when the Lions Club took Mr Wilson under its wing for a future event. I remember something Mr Wilson said to me on that phone call, that if you are suffering - or know someone suffering - from a terrible illness like cancer, you may want to reach out, but not know how.
What I admire about the Breast Cancer Pink Walk is its huge sense of camaraderie. Allowing men to join in is a move in opening this inspiring event up to the wider community. Let's hope it encourages even more people to take part, particularly those who may need help, but we just don't know about them.