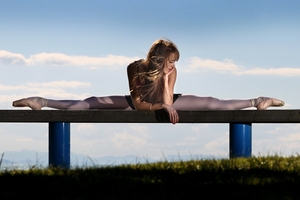 While most parents do what they can to make their children's dreams come true, few would make the kind of life sacrifices Michele Griffin has.
The Tauranga mum has given up all the luxuries in her own life to make her daughter Abby's dream of becoming a principal dancer at a ballet company come true.
When the teenager was accepted to study for a three-year diploma at the English National Ballet School, many parents would have seen the $62,000 she has already paid for fees, accommodation and expenses as overwhelming, and there are still two years to go.
A lot would have seen no other option but to dash their child's hopes of stardom, shoulder their disappointment and cross their fingers while they reassured them a similar opportunity would come along soon.
For Ms Griffin, who featured with Abby in Wednesday's Bay of Plenty Times, the only option was to say yes to her talented daughter and make every sacrifice possible to make it happen.
This meant devoting her life to earning and seeking out ways to raise the money to keep Abby in London, while still bringing her home from time to time to reconnect with family and friends.
Thousands of parents, like Ms Griffin, will take their young, enthusiastic children to ballet, swimming lessons or gymnastics classes once a week, but for most puberty will see other distractions take priority and the interest and enthusiasm fall away.
But what happens when your child has a natural talent and goes from strength to strength outshining their classmates?
At this point parents have to make a decision to commit to the chosen art form or sport almost as strongly as their child.
For Ms Griffin, who took Abby to her first ballet class at age five, the commitment and sacrifices began years ago.
She has driven her daughter to countless ballet classes each week, paid for hundreds of pairs of ballet shoes and watched numerous recitals.
While home for the summer holidays this week, an appreciative Abby told the Bay of Plenty Times there were few mothers who would give up everything for their kids - and she's right.
There are so many who would have seen the logistical and financial hurdles to Abby becoming one of the world's best ballet dancers as too big for a teenager from New Zealand and her loving mum.
But this mother and daughter's story is probably not unlike many behind New Zealand's successful actors, dancers and sports people who have made it through the unfaltering dedication of their families.
Saying you would do what you could to see your child reach their dreams is easier than doing so.
It's fine when your child's dream is to play representative sport, raise a family and have a successful career, but when it's to perform and succeed on the world stage the stakes are much higher.
The sacrifices this mother and daughter have made will surely make the day Abby takes the stage as a principal dancer all the more memorable and rewarding for both of them. Their story makes you wonder how many future kiwi stars there would have been had their parents had the same can-do attitude as Ms Griffin.